Company sees future in new Austintown location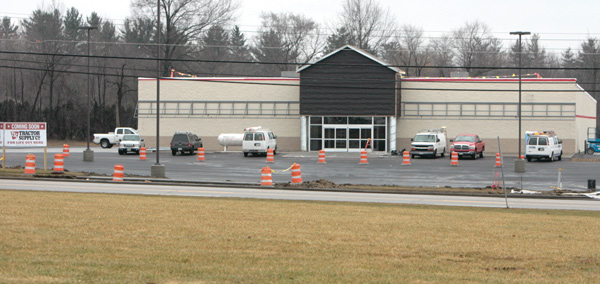 ---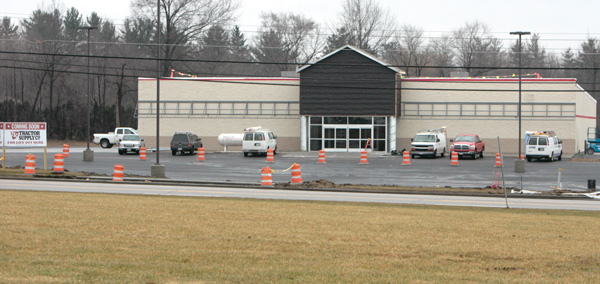 Photo
Construction work continues on a new Tractor Supply Co. store in Austintown. The 19,000-square-foot store is at 6225 Mahoning Ave., and a tentative opening is scheduled for May 25.
By Susan Tebben
AUSTINTOWN
The newest member of the business community is bringing Austintown 75 years of history in the agricultural business.
Tractor Supply Co. has begun construction on its 81st location in Ohio, a 19,000-square-foot facility at 6225 Mahoning Ave. including a sales floor, support-service space and a fenced exterior space for storage and display.
"We showed them a number of properties for sale, and they said they wanted to be close to competing big-box stores," said Darren Crivelli, Austintown zoning inspector. "They really liked that area."
The Brentwood, Tenn.-based company also was attracted to the area based on its niche market of "part-time and hobby farmers and horse owners in the area," according to an email from Rob Hoskins, spokesperson for TSC. Approximately 12 to 17 jobs will be created by the new store, the release stated.
TSC came to the township in the spring looking for properties, Crivelli said. The contractor for the project, W.R. Newman of Nashville, Tenn., began construction Oct. 29, 2012.
The company, which owns and operates more than 1,100 stores in 45 states, markets to farmers and ranchers along with contractors and tradesmen, according to the company description on TSC's website. It also sells lawn and garden products, animal- care products and clothing.
"Because it's a specialty store, people coming to visit are coming to buy," said Austintown Trustee Jim Davis about the new store. "Any time we have development, especially big companies, it's a good thing for the area."
Founded in 1938, TSC has retail revenues of approximately $4 billion, according to its website.
A soft opening for the Austintown site is tentatively scheduled for May 25, Hoskins said.
More like this from vindy.com