Springfield stings Mineral Ridge in OT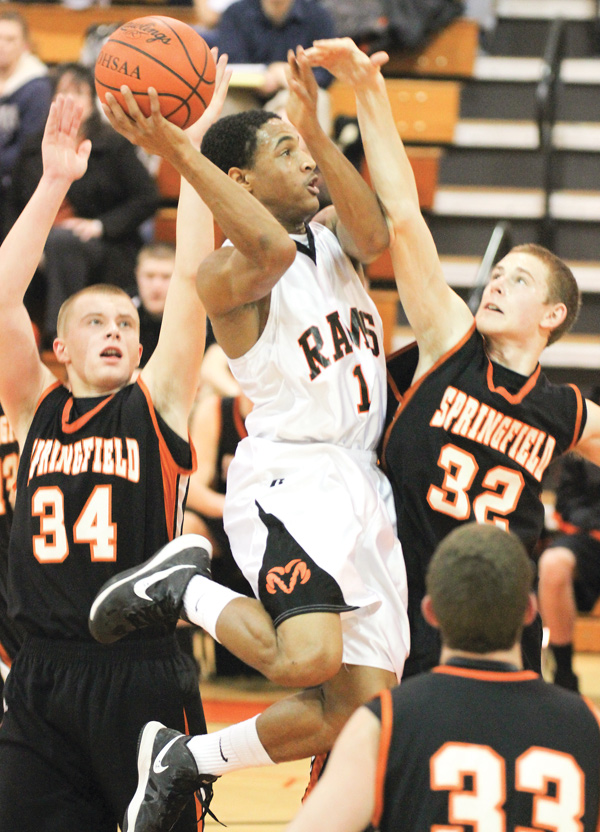 ---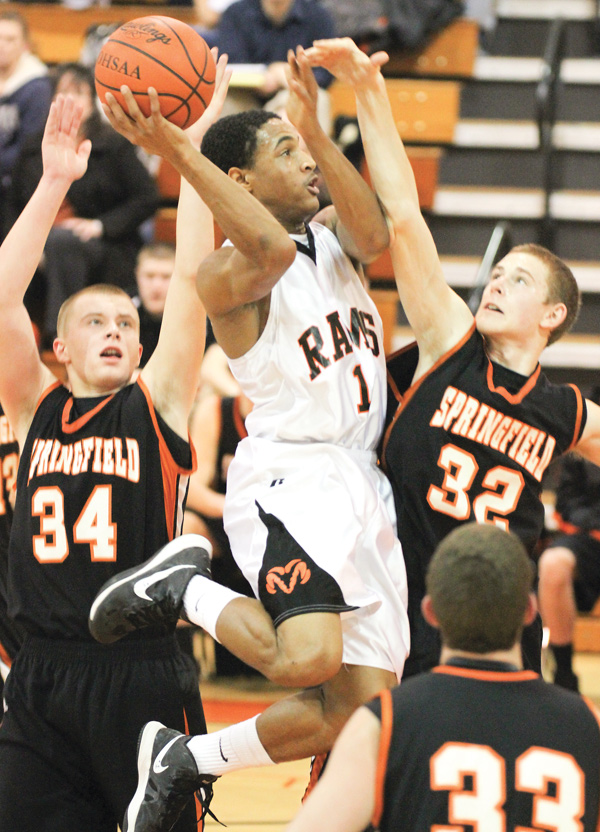 Photo
Springfield's Jared McTigue (32) tries to block Mineral Ridge's Corey Phillips (1) during an Inter Tri-County Tier One game Tuesday in Mineral Ridge. The Tigers edged the Rams in overtime, 58-54.
Bees' critical steal stings the Rams
By Tom Williams
MINERAL RIDGE
Springfield senior Eoghan Bees oozes positivity, so there was no doubt in his mind that he could make the steal that helped seal his team's 11th-straight league victory.
With Mineral Ridge ahead by a point midway through overtime of Tuesday's first-place showdown, Bees surprised the Rams' Nate Palmer with a steal and a layup that put the Tigers ahead for keeps.
Mark Schuler's three free throws were the only points in the final minute of Springfield's 58-54 victory.
Bees didn't see his play as being that big of a gamble.
"That was just an opportunity I saw to go grab [the ball] off of Nate, who honestly kept them in the game," Bees said. "He played great defense all night. One lapse and I was able to sneak in and steal it."
Jared McTigue scored 20 points and made five rebounds as the Tigers (12-3, 11-0 Inter Tri-County League Tier One) opened up a two-game lead over the Rams (11-6, 9-2).
Corey Phillips led the Rams with 19 points, followed by Palmer with 18. Their biggest basket was hit by Zac Hagy with seven seconds remaining in regulation. Hagy connected on a fadeaway 3-pointer to tie the game at 51-51.
After his squad lost a six-point lead early in the fourth quarter, first-year Rams head coach Chris Kohl said that shot was like a prayer being answered.
"It really was," Kohl said. "Zac Hagy had missed the shot before that and was almost inconsolable there. His entire demeanor changed in a flash and it gave us a lot of confidence.
"It's kind of been our MO all year long — just don't know quite how to finish a basketball game yet," Kohl said. "That's still a work in progress."
Down 40-34 early in the fourth quarter, the Tigers' Alex Wharry hit a 3-pointer. He finished with 14 points.
McTigue scored eight points in the final quarter — three baseline jumpshots and two free throws.
"It's a huge win," said McTigue, calling it the team's best win. "We all came together at the end."
Springfield coach Eric Fender said, "We needed a big [game]. We got it tonight. They create a lot of mismatch problems, Phillips is a quick, athletic guard. They attack the hoop.
"And you've got to respect Hagy and what he can do from the perimeter."
McTigue said he wasn't surprised that Bees made the critical steal.
"I had faith in him," McTigue said.
Asked if he was confident Bees would make the play without a foul, Fender said, "No — down one in an overtime, when do you ever feel comfortable?"
"But he's a very smart kid, he's a senior, he's been through it. If he sees something he can go after, you know what? You sometimes got to [take] a gamble and see if you can get it."
More like this from vindy.com
January 30, 2013 12:10 a.m.