---
Wednesday, January 30, 2013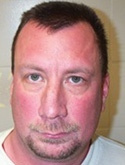 Photo
By Susan Tebben
STRUTHERS
A man was arrested in Struthers Tuesday afternoon in the death of a 13-year-old boy, police said.
An investigation that began last Wednesday resulted in the arrest of Zaryl G. Bush, 43, of Creed Street, on the basis of a warrant issued, according to a press statement from Struthers police.
The Mahoning Valley Violent Crimes Task Force arrested Bush at 3:37 p.m. on charges stemming from the death of his former girlfriend's son. Struthers detectives said Bush and the woman had been dating for three years, Vindicator broadcast partner 21 WFMJ-TV reported. Police received a call from a relative on Jan. 23 who believed the injuries were "suspicious in nature," authorities told WFMJ.
"We are still waiting on the autopsy results, but the juvenile was taken to the hospital with head injuries and died after going to the hospital with those head injuries," Detective Ray Greenwood told The Vindicator.
Police said the boy's face was swollen and he had frostbite on his feet, police said. Police also said the boy was brain-dead and taken off life support early Sunday.
The investigation is still ongoing, and more charges could be leveled against Bush. He currently is charged with first-degree murder and will be charged today with first-degree rape, Greenwood said. The mother, who has not been charged, has not been cooperative in the investigation, detect- ives said, adding that Mahoning County Children Services took custody of the woman's other children.
Further details on how the juvenile received the head injuries were not available as a result of the open investigation.
Bush was booked at the Struthers Police Department before being taken to the Mahoning County jail, where he is being held without bond.
Arraignment is scheduled for 9:30 a.m. today.
Court records show Bush has nine offenses on his record, including three alcohol-related offenses. The only other criminal offense for which Bush had been charged was for open container in 2007. Detectives said he has a pending assault trial after being accused of attacking a 20-year-old who crossed through the backyard of the former girlfriend's house.
Struthers Police Chief R.T. Roddy said there has not been a homicide in the city in at least a decade. Vindicator records dating back to 2000 did not show any homicides reported in Struthers.