Pat's 50 years on the job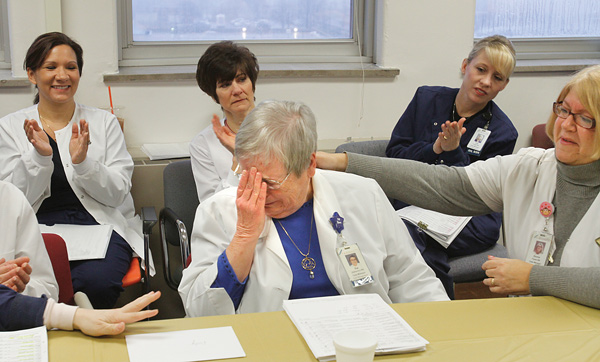 ---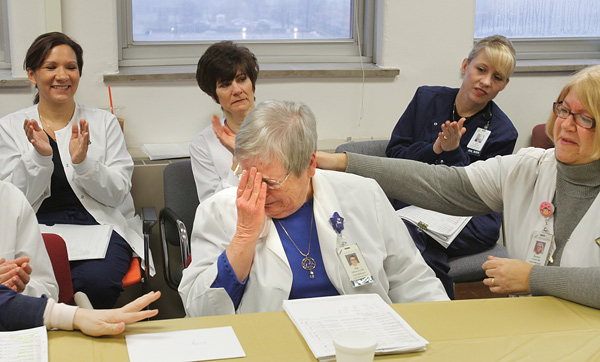 Photo
Pat "Pinky" Pinkerton of Salem is overcome with emotion at a surprise celebration at St. Elizabeth Health Center, Youngstown, for her 50 years with the hospital. She gets an encouraging arm from registered nurse Donna Flauto.
By WILLIAM K. ALCORN
alcorn@vindy.com
YOUNGSTOWN
Pat Pinkerton has seen half of the 101-year history of St. Elizabeth Health Center during her career at the hospital.
Known as "Pinky," Pinkerton was surprised with a cake and case-management department staff gathering Tuesday on the 50th anniversary of her hiring in 1963.
"A desire to help people and good people to work with" are what Pinkerton said has kept her on the job for a half-century. "It's a good place to work," she said.
Pinkerton, who graduated as a diploma nurse from the St. Elizabeth Hospital School of Nursing in 1962, joined St. Elizabeth after working a short time at Cleveland Clinic.
At St. Elizabeth, she was a direct-care nurse for about a year, a head nurse for some 30 years, and a case manager for the last 20 years.
During her career, Pinkerton earned a bachelor's degree in applied science from Youngstown State University and bachelor's and master's degrees in nursing from the University of Akron.
"It was very nice," Pinkerton said of the Tuesday affair, amid the hugs and tears, and for her, the embarrassment of being the center of attention.
"She is the most humble, kind and thoughtful person you would want to come to work with every day," Kim Sefcik, co-worker and friend, said of Pinkerton.
"Every day when she works with patients and families, she carries out the mission of St. Elizabeth, which is to provide a healing presence when they are at the most-vulnerable time in their lives," Sefcik said.
Though she lives in Salem, Pinkerton is usually one of the first people to arrive at work, said Jerry Rosa, manager of the department of case management and social work at St. Elizabeth Youngstown and Boardman.
In addition to her people skills, she has "tremendous clinical skills, which helps her as a case manager to know how her cases are progressing," Rosa said.
Pinkerton, daughter of Gertrude and Kenneth Pinkerton, who grew up in Warren, has worked under several hospital chiefs at St. Elizabeth, beginning with Sister Consolata Kline, who was hospital administrator, up to Robert Shroder, Humility of Mary Health Partners president and chief executive officer.
During that half-century, she has witnessed major changes in nursing, from vastly improved pay, the advent of new technology, more men in the field, and increased respect for the profession in the hospital and in the community, she said.
Pinkerton has two sisters, Barbara Smith of Lisbon and Kathleen Grazak in Texas, six nephews, a niece and three great-nephews with whom she says she is very close.
Despite 50 years on the job and all the changes the half-century has brought, Pinkerton says she still enjoys what she is doing and has no immediate plans to retire.
"I've known her 35 years. She was my head nurse when I started here, and she has been a mentor for hundreds of new nurses. She is very well-respected," Sefcik said.