---
Wednesday, January 30, 2013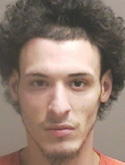 Photo
YOUNGSTOWN
Tuesday was an emotional day in Mahoning County Common Pleas Court as a murder victim's brother said he hopes the guilty verdict against his brother's killer saves lives in the future.
A jury of nine women and three men spent a week listening to evidence and a full day deliberating before finding 22-year-old Daro Correa guilty of killing 30-year-old Randy Cappelli of Campbell.
Atty. Mark Carfolo, representing Correa, asked the court to set aside the guilty verdict and enter a finding of not guilty, but that motion was denied.
Less than 45 minutes after the announcement of the verdict, Judge John Durkin of Mahoning County Common Pleas Court sentenced Correa to 43 years to life in prison.
Cappelli was found dead with multiple gunshot wounds, including at least one in the head, about 4:40 a.m. New Year's Day 2011 after police were called to the 1000 block of Shady Run Road on the South Side because of reports of gunfire.
When officers arrived, they saw Cappelli face up on the ground a few feet from the passenger side of a Toyota Scion, which was on fire. He was pronounced dead at the scene.
The victim's brother, Vincent Cappelli, addressed the court before sentencing expressing shock and dismay at how his brother was murdered. He said Correa has shown no remorse for the murder.
"I don't know how someone could shoot a person like that. ... I wouldn't shoot a deer like that," he said.
Vincent Cappelli told the judge he fears Correa would commit more crimes if ever released from prison and asked the court to make his brother's death mean Correa would be locked up for life, unable to commit more crimes.
Nicholas Brevetta, an assistant county prosecutor, also said Correa has shown no remorse since the time of the murder and should be put away for the protection of the community.
"Mr. Correa killed Mr. Cappelli for no reason whatsoever. ... No one deserves to be shot six times in the head and neck on New Year's Day, and that is exactly what he did," Brevetta said.
Whatever remorse Correa had may have been saved for his final appearance in court.
The convicted killer addressed the court and family of his victim, but had to pause for a short period of time as he was overcome with emotion.
Correa apologized to the victim's family and made a short statement before sentencing.
"I had no reason to shoot that man. I had no motive to shoot that man," Correa said. "He was nothing but good to me for the short time I knew him. I know the family is looking at me like a monster. ... I want you to know it wasn't me who killed him."
Carfolo told the court his client had only one previous conviction for possession of drugs and should be given a minimal sentence, but the court disagreed.
Judge Durkin said it is unknown why the shooting took place, but said no one deserves to die in the manner Randy Cappelli died.