Heard says he will leave Nebraska football program
---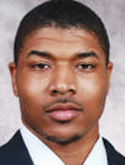 Photo
By Joe Scalzo
When Nebraska's coaches asked Braylon Heard to change positions for the third time in three years, Heard decided it was time to change schools instead.
Rather than move to wide receiver, Heard, a former All-Ohio running back at Cardinal Mooney, will finish this semester in Lincoln, then transfer to a school to be determined, one of his high school coaches, Chris Amill, confirmed Tuesday.
"He's tired of being moved around so much," said Amill, who has been close to Heard for years. "He just wants a shot to play running back."
Heard played running back as a freshman, rushing for 114 yards in limited action, and was briefly switched to cornerback in the spring. (Amill said Heard considered transferring after the move to defense.) After switching back to running back last summer, he rushed for 348 yards and three TDs last fall.
After the season, Heard met with offensive coordinator Tim Beck (a Mooney graduate) and running backs coach Ron Brown, who asked him to move to receiver, Amill said. Heard then called head coach Bo Pelini to inform him of his plans to transfer, Amill said. That contradicts a report in the Lincoln Journal Star; Pelini told the newspaper that neither Heard nor anyone else told him of the running back's plans to transfer.
"They had an idea it was coming," Amill said. "Maybe he was hoping that when some time passed, Braylon would change his mind.
"Braylon was really debating what he wanted to do, but at the end of the day, he felt like it was time to go. He's kind of down about it because he felt like they stuck with him when he was struggling [to qualify academically]. He loves the fans there and the relationships he's built with his teammates, so it was hard for him to walk away."
Heard, who did not respond to requests for comment, is the second Mooney player to spurn the Cornhuskers this week. On Monday, Cardinals senior Marcus McWilson changed his verbal commitment from NU to Kentucky.
"I think that's a coincidence," Amill said. "With Marcus, it came down to distance, so it's easy on his parents to go to games."
Heard has not decided where he'll play next, Amill said, but Pitt is one of the frontrunners because of its close proximity to Youngstown and because his former Mooney classmate, Ray Vinopal, plays safety for the Panthers. Youngstown State is also in the mix because it's in his hometown and he could play immediately. If Heard transfers to an FBS school, he would have to sit out a season. Either way, he will have two years of eligibility remaining.
"He's still pretty wide open to everything," Amill said.