Poland puts it all together in win over Niles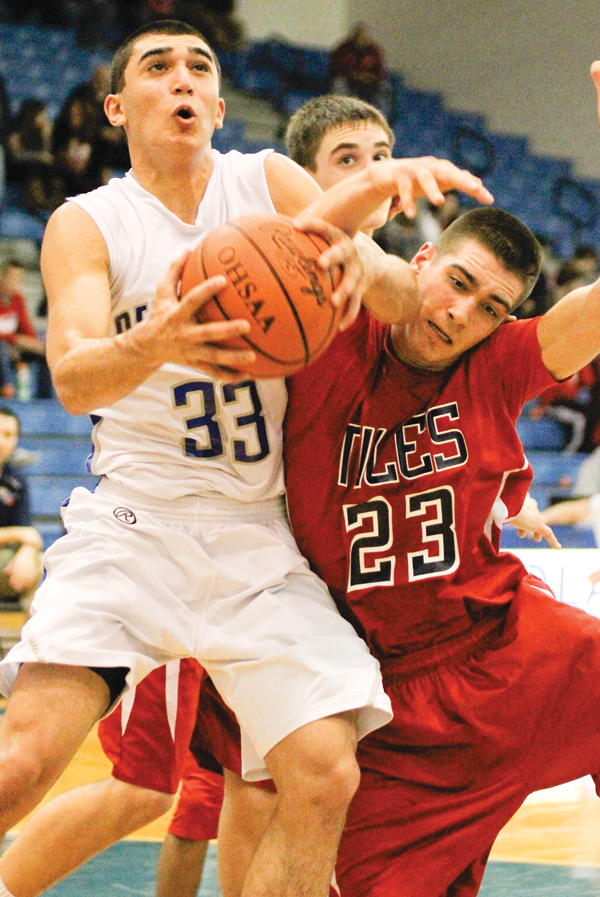 ---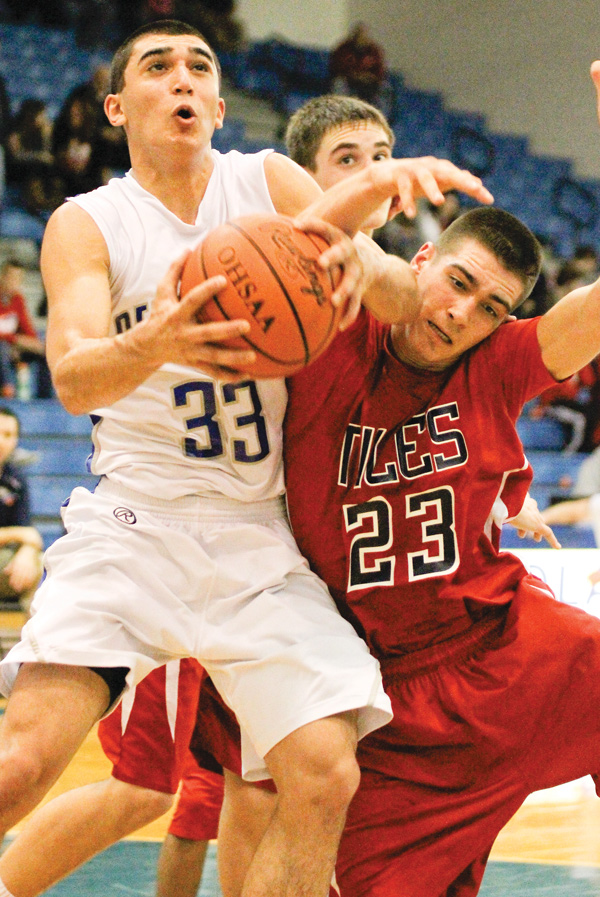 Photo
Poland's George Chammas (33) fights off Niles defender James Tate (23) during the second half of Tuesday's game in Poland. The Bulldogs bounced the Red Dragons, 69-51.
Bulldogs top Red Dragons for fifth straight victory
By Ryan Buck
It's been a whirlwind two weeks for Poland High basketball player Kyle Dixon.
Two weeks ago, the sophomore was anchoring the Bulldogs' junior varsity squad before joining his classmates to watch the varsity in action later each game night.
After the varsity's disappointing 54-35 home setback against rival Canfield, Poland coach Ken Grisdale approached Dixon one afternoon in the middle of practice.
"One day at practice, Coach came up to me and he told me that he was looking for a little more scoring," Dixon said. "So they brought me up after that and ever since …"
In quite the dramatic promotion, Grisdale inserted Dixon into the starting lineup immediately thereafter. The Bulldogs have now won five straight, including Tuesday night's 69-51 victory over Niles at the Poland High Fieldhouse.
Dixon led the way with 16 points in one of Poland's most complete efforts of the season.
"I looked at the scorebook and that's the most balanced scoring that I can remember. We almost had six guys in double figures, five guys and one guy with nine (points)," said Grisdale, whose eyes widened behind his spectacles at that statistic. "When we do that, I think we're pretty difficult to defend."
The Bulldogs started strong out of the gates, jumping out to a 24-13 lead after one period. Dixon and junior standout Jacob Wolfe totaled seven points each.
Niles coach Ron Price was hoping to see his team take care of the ball better early, but his lineup, stocked with shooters surrounding star guard Ray Russ, kept pace with Poland.
"They had a nice first quarter," Price said. "They shot the ball well. When they're playing that well, turnovers don't help."
The Red Dragons trailed by as many as 14 in the second quarter until a 6-0 run, started by Chris Parry's second 3-pointer of the night, brought Niles to within eight points at halftime.
Once second half play began with another Parry three-pointer, Poland's newest member of the varsity struck again.
Dixon found Kevin White cutting to the hoop for an easy lay-in and a 37-30 Poland lead. White then hit Alex Hubbell inside for another layup before Dixon stole a pass and raced ahead for a contested left-handed layup. On the next trip down the floor, George Chammas found Wolfe for a wide-open 3-pointer to give Poland a 44-30 advantage with 6 minutes remaining in the third quarter.
Poland's burgeoning chemistry was on full display.
"I kind of threw a monkey wrench into the chemistry about two weeks ago, Grisdale said. "I think they're figuring out how to play with each other. I thought we spaced it well, they're getting used to playing with Kyle. I thought that we would be better with the changes that we made, but it took a couple weeks for them to start getting comfortable with eachother.
Niles continued its 3-point barrage. Russ fought his way to a game-high 22 points until the contest was out of reach.
Dixon has the rest of the season to grow with the Poland offense and two-and-a-half more years to force opposing fan bases to pull their hair out when he has the ball.
"It's been pretty easy," Dixon said. "I'm just finding my role as more of a shooter. I'm pretty happy with it right now."