Ceremony marks McKinley's 170th birthday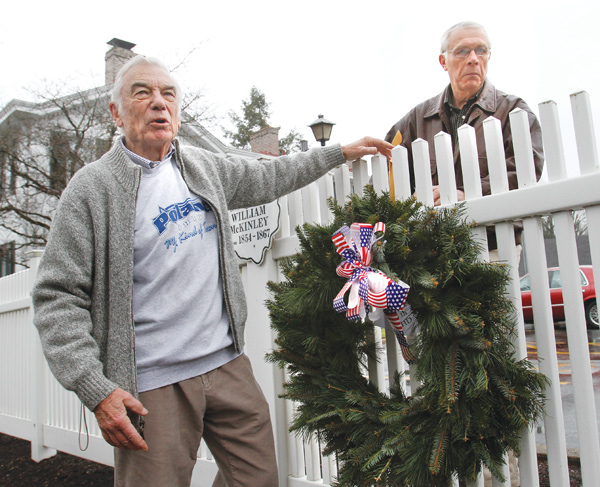 ---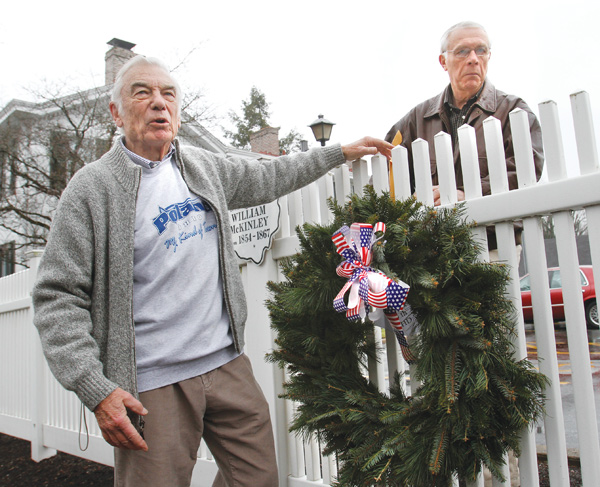 Photo
Ted Heineman, left, and Dave Smith place a wreath where President William McKinley's boyhood home once stood in celebration of McKinley's 170th birthday. Both men are members of the Poland Historical Society and Town One Streetscapes, which organized Tuesday's commemoration. McKinley, pictured top left in his Civil War uniform, graduated from Poland schools and later worked as a postal clerk and teacher in Poland.
POLAND
Officials and residents celebrated the 170th birthday of the nation's 25th president with a wreath-laying ceremony Tuesday.
Village Mayor Tim Sicafuse read a resolution approved by council that declared Tuesday a commemoration of President William McKinley's boyhood life in Poland.
McKinley's family moved to the village in 1852 for education opportunities, and the future president later served as a postal clerk, teacher and Civil War soldier.
"These experiences helped to form [McKinley's] character, attitudes and opinions, which influenced him later as president of the United States," Sicafuse said.
The ceremony was the kickoff to the McKinley Awareness Project, which is led by Town One Street-scapes and the Poland Historical Society with support from the Poland
Preservation Society, village and township.
Poland border signs will have additions soon that proclaim Poland as McKinley's boyhood home, and an Ohio Historical Marker on the site of McKinley's boyhood home is planned.
Dave Smith, a historical society trustee and Streetscapes member, provided an overview of McKinley's time in Poland and credited his colleague, Ted Heineman, for having the idea for Tuesday's celebration.
"There's a military tradition to place a wreath at the graves of U.S. president's on their birthday," Heineman said. "We wanted to put a wreath here on his home."
McKinley's boyhood home once stood on Main Street where the Home Savings and Loan parking lot is now. A plaque on the bank's picket fence was donated by the Poland Village Gardeners and installed last year to mark the home's location.