Lowellville girls edge Columbiana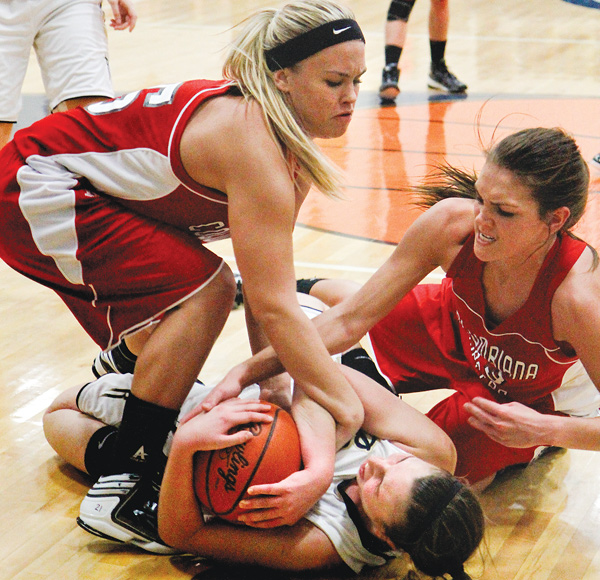 ---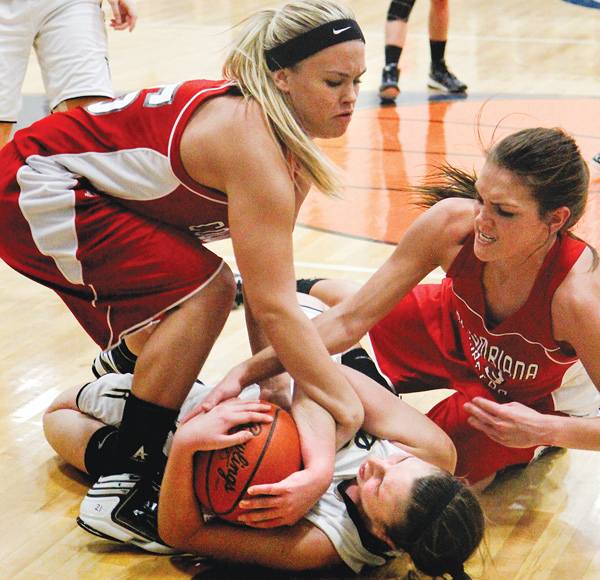 Photo
From left, Columbiana's Khylea Fullum, Lowellville's Rachel Durbin and Columbiana's Megan Cutlip wrestle for the basketball during Monday's showdown.
By Tom Williams
Lowellville
Monday's Columbiana-Lowellville girls basketball game more than lived up to the hype of being a clash of the smaller titans.
Lowellville's four-year starters Kaye Solak and Rachel Durbin each scored four points down the stretch and the Rockets withstood deep foul trouble to earn a 53-52 victory before a boisterous crowd well-represented by both communities.
The win was the Rockets' (15-2, 11-0 Inter Tri County League Tier Two) 66th win in their past 67 league games.
"This reminded me of Boardman-Hoover," said Columbiana coach Ron Moschella, the long-time Boardman coach who has the resurgent Clippers (15-2, 9-2) chasing the Rockets to be the Mahoning Valley's best small school team. "It was a great experience."
Lowellville head coach Tony Matisi agreed.
"I know I wouldn't be this excited if we lost," said Matisi, who told his players "you are so fortunate to have this opportunity. Ninety percent of the kids playing high school ball don't get this atmosphere.
"I just truly wanted them to enjoy this — a great girls game."
Solak, who scored 16 points, said, "this was probably the most fun I've had playing basketball in my four years. The nerves were there in the beginning but having the crowd honestly helped.
"We wanted to win for us, but because of the fan support, we didn't want to let them down, either," Solak said.
Solak said she was nervous "all day at school— it was all I could think about. But once we started the game, I was able to lose the nerves."
Trailing 45-43 with 2:40 remaining, Durbin and Solak scored baskets to take the lead. After Maddie Opritza sank two free throws, Solak drove to the hoop and connected for a 51-45 lead.
The Clippers countered as Megan Cutlip scored from underneath while Lindsey Roncone hit a 3-pointer with a minute to go.
Durbin made two free throws 30 seconds later for a 53-50 advantage.
"Definitely fun," is how Durbin described the game. "This us why we play, this is what we want."
Durbin admitted she felt pressure.
"I tried to tell myself to not pay attention to the other student section," said Durbin who made all eight of her free throws. "We definitely fed off [the commotion]. We were just glad our whole school was here to support us."
In the final seven seconds, Durbin lost control of an inbounds, giving the Clippers one last shot at overtime.
Khylea Fullum, who scored a game-high 17 points, scored on a drive and was wisely untouched by the Rockets to end the game.
"Unfortunately, we made the same mistakes at the end that we made last game," said Moschella, referring to a 52-47 loss at Columbiana last month. "Hopefully, the kids learn from it.
"They're disappointed, but I told them to hold their heads up and high and be proud that they were in a game like this."
Durbin scored 15 points and made nine rebounds and three steals. Opritza also scored 15 points played the final 6:20 with four fouls.
For the Clippers, Bailey Mook scored 13 points before fouling out with 5:55 remaining.