Group calls board member's comments racist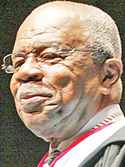 Photo
By Denise Dick
Youngstown
A community group is taking offense at what it calls "racist" comments made by a veteran city school board member and threatens sanctions if the school board doesn't take corrective action.
At a school board meeting last week during a discussion about losing students and the effect on school finances, Lock P. Beachum Sr., longtime board member, said the district was losing its best students. He expressed doubt about the district climbing out of academic watch if it continues to lose the best students.
He pointed out that many people perceive the district as an all-black school district — 90 percent of the white students have left the district — and said that a diversified student population improves academic performance for all students.
The Parent Student Union and United Front for Educational Justice, in a news release, call Beachum's comments "disrespectful, unacceptable and racist." The group has in the past challenged the school board about the way black students are educated in city schools.
"If the above comment by school board member Beachum had been made by a right-wing white, male Republican politician, businessman, teacher or principal, the black community leadership, including board members, would be calling for him or her to resign or be fired," the group's news release says. "But because board member Beachum is black, he is being given a 'pass' by the other four black board members and civil-rights leaders within the community."
They say the board member's comments give the impression that black children are "ignorant, stupid, inferior and ineducable without the presence of white children" and want Beachum to recant his statements.
Beachum said he wasn't saying anything derogatory about any students of any race.
"As someone who grew up in the South during segregation in the '50s and '60s, I'd be the last person to say that," he said.
Beachum is an Alabama native.
"We have to be able to attract students of all abilities and to challenge them," he said. "I would want my children or grandchildren to go to the best school where they would be challenged."
Beachum also said in an email that the "Youngstown School District has much to offer all students regardless of race, creed or color. I fully believe in the Declaration of Independence. All Men are created equal. I will continue to work to provide excellent education for all students in the Youngstown schools as I did as principal. Parents, you do not need to leave our district for an effective education."
Board President Richard Atkinson said he wasn't offended by Beachum's comments and didn't view them as racist.
"We have to attract the best students to the school district" regardless of race, he said.
The group calls on other school board members to repudiate Beachum's comments. It wants Atkinson to write a letter to the parent of every black student in the school district saying Beachum's comments don't represent the views of the city schools.
If no corrective action is taken by Friday, the group says it will have a news conference to announce what "sanctions" will be applied.
More like this from vindy.com