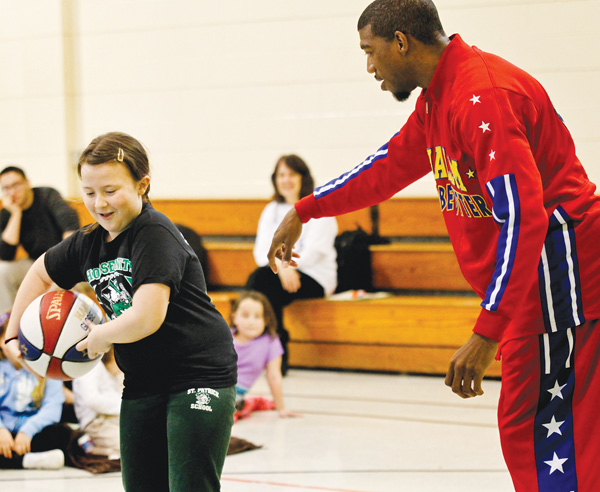 ---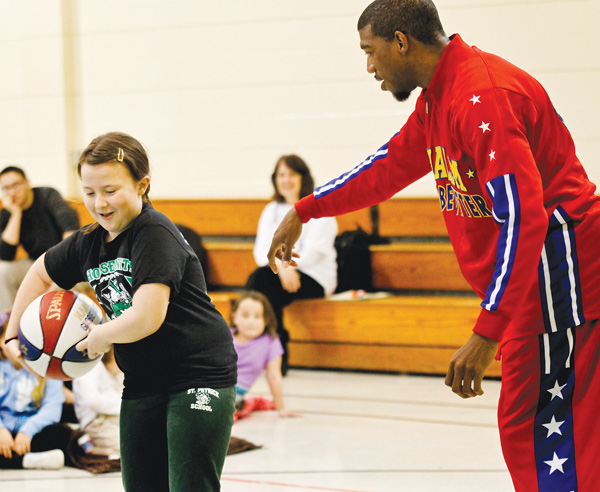 Photo
Anthony "Buckets" Blakes of Phoenix, Ariz., a member of the world-renowned Harlem Globetrotters, teaches Lauren Ladd, a fourthgrader, some ball-handling moves. Blakes also conducted an anti-bullying prevention program for the children Monday at St. Patrick Parish Center, Hubbard.
Anthony Blakes stops at St. Patrick School and Akron Children's Hospital
By Sean Barron
HUBBARD
Anthony Blakes has mastered fancy footwork, slick movements and eye-catching gesticulations with a basketball, but when it comes to making moves against bullying, he couldn't be more straightforward.
"Bravery is a nonconfrontational way to tell the person to not be mean, and walk away," said Blakes, of Phoenix, a member of the Harlem Globetrotters who conducted an anti-bullying program Monday in St. Patrick Parish Center, 38 E. Water St.
Blakes, also known as "Buckets," spoke to about 110 youngsters age 6 to 12 during the 45-minute session titled "The ABCs of Bullying Prevention," which the Globetrotters designed in conjunction with the National Campaign to Stop Violence.
"Working with kids is a passion of mine," said Blakes, who attended the University of Wyoming and is an 11-year Harlem Globetrotter who has played all over the world.
The program centers on action, bravery and compassion as means to combat all forms of bullying.
Blakes, who plans to take his message to more than 300 schools by late April, began by giving a brief history of the Globetrotters, noting that the professional basketball team that also infuses comedy and showmanship into its games formed in 1926 in Chicago.
Blakes asked several students to describe how they would use the ABCs to prevent or stop bullying. Their responses included telling a teacher, parent or other trusted adult; refraining from gossip and other forms of negative talk against someone online and in person; and trying to cheer up and be inclusive toward a bully.
"I learned basically that bullying is hurting kids, and it's mean," observed 10-year-old Lauren Ladd, a St. Patrick fourth-grader.
"I'm more comfortable telling someone," said Jeff Marx, 14, an eighth-grader who a few years ago saw the Harlem Globetrotters at the Covelli Centre in Youngstown.
Jeff explained that, despite having never been bullied, he would stand up for someone he witnessed being mistreated.
So, how did Lauren and Jeff feel when Blakes had them join him in a circle and do their best feats with a basketball before he performed comical tricks that included rolling the basketball from shoulder to shoulder and, of course, twirling it on both index fingers without missing a beat?
"I felt a little scared to do that thing where you lifted [the ball] off your back," Lauren said with a chuckle.
"I was kind of nervous in the circle," added Jeff, who nevertheless received a bit of practice — becoming more adept at combining a few leg and arm moves with the ball.
The Globetrotter also made a visit later in the day to the physical- therapy building at Akron Children's Hospital, Mahoning Valley, Boardman, as part of the "Smile Patrol" program.