Apartment fire cause remains under investigation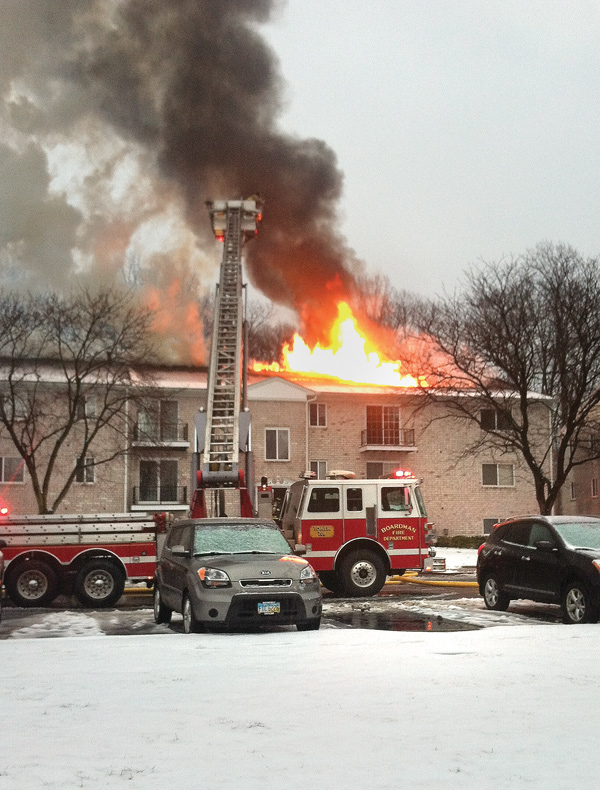 ---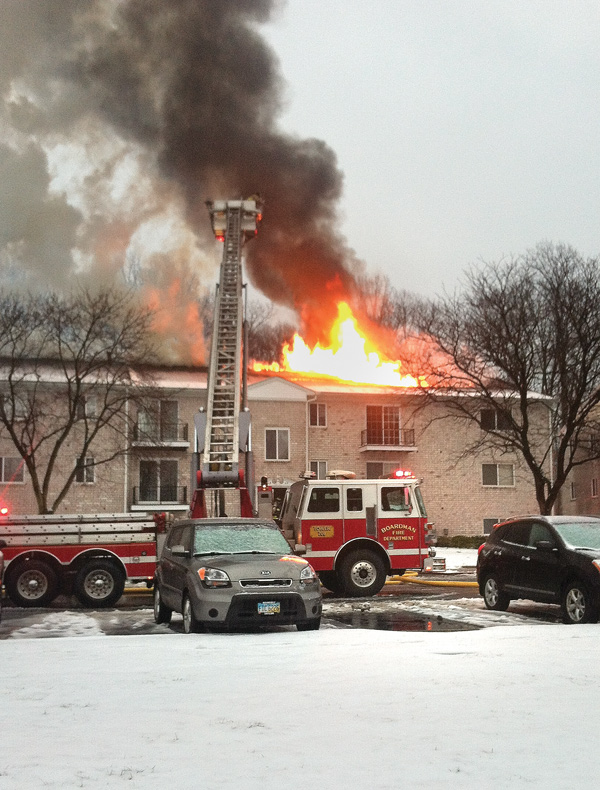 Photo
Fire crews from Boardman, Austintown and Canfield battle an apartment blaze that broke out about 8:30 a.m. Monday at 6849 Lockwood Blvd. in Boardman. A woman was taken to the hospital, where she later died.
BOARDMAN
The state fire marshal's office is investigating the cause of an apartment fire in which a resident died Monday night.
Fire Chief George Brown said Shawna Carney, 45, whom firefighters had rescued after the fire started at Mill Creek Village Apartments on Lockwood Boulevard, died at St. Elizabeth Health Center's Boardman campus.
The exact cause of death was not known late Monday.
The fire broke out at 8:19 a.m. Boardman firefighters were at the three- story building within four minutes of the call, dispatchers said.
The state fire marshal said that his department would not issue a preliminary ruling.
One of the apartment's residents said all she had time to grab was her purse, cellphone and diamond ring.
"A neighbor was banging on the door, but when we went into the hallway, no one was there at first," Lauren Kovach said.
Then several things seemed to happen at once, she said. The smoke detectors wailed, and firefighters appeared at her door, telling her she needed to leave.
She walked outside and looked back at the flames leaping from the roof of 6849 Lockwood Blvd.
"I just felt shock," she said.
"We rescued one victim [Carney]. ... Everyone [was] evacuated," said Boardman Assistant Fire Chief Tim Drummond.
Drummond said that when firefighters arrived, flames were sprouting from the roof. The fire spread from 6849 Lockwood Blvd. to the apartment to the left, 6847, but fire crews had contained it from taking over most of that neighboring building.
"There is a firewall there," Drummond said, which is where firefighters gathered to stop the fire's movement.
Hoses looped throughout the apartment complex's parking lot, and Drummond described the water pressure as "adequate."
Brown said fire crews from Austintown and Canfield assisted, and by about noon, the firefighters had the fire out and were beginning "salvage and overhaul" to make sure nothing was smoldering.
"The firefighters did an outstanding job," Brown said.
The third floor and roof sustained the most damage, though Brown did not describe it as a total loss. The second and first floors of the build- ing have smoke and water damage, but residents should be able to sort through belongings soon, he added.
Kovach said Simco Management Corp, which owns the complex, offered to house her and the dozen or so families who are displaced in a hotel.
"I just want to go back in, just to look," she said of her first-floor apartment.
Eri Raib also lives in the apartment complex, but in a building across the parking lot at 6811 Lockwood Blvd.
She was leaving for work about 8:25 a.m. and once she saw the fire, and the equipment to fight it, she knew she couldn't leave.
"It looked very foggy out. I opened the door and saw two or three firetrucks, and they had laid out their hoses across the parking lot. It looked like flames were on the roof," she said.
The fire made Raib think of how prepared she would be in an emergency.
"I recommend renter's insurance and gathering all of your important documents in one place," she said. "It makes you think about what truly is important. If you had to leave immediately, what would you take?"
More like this from vindy.com