Falls council considers future of police chief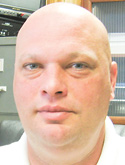 ---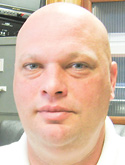 Photo
By Jordan Cohen
NEWTON FALLS
Allegations of misconduct against Police Chief John Kuivila could possibly lead to termination of his job perhaps as early as next week.
Council, after a one-hour executive session Monday evening, passed a resolution ordering the city manager and law director to determine disciplinary action against Kuivila "up to and including termination." The vote was unanimous.
This month, two female employees of the police department alleged that the chief's conduct toward them was improper and inappropriate.
One of the employees accused the chief of making "inappropriate" comments about her body. Kuivila admitted to city manager Jack Haney that he had exchanged text messages with the woman. One of his messages, which was not sent, was discovered by the chief's wife, who confronted the clerk. The employee then reported the incident to Haney.
The other employee accused the chief of threatening her and placing her in an "environment which is hostile, and I am fearful." She also complained about the chief to Haney who has been conducting an investigation with Law Director A. Joseph Fritz since the women lodged their complaints.
Councilman Richard Monteville, who made the disciplinary motion against Kuivila, declined to go into specifics when asked if he believes Kuivila should be fired.
"I'm going to wait to see what the law director and city manager recommend," Monteville said after the meeting. "We could be voting on the chief as early as next Monday in our regular meeting, but there is no timeline."
Mayor Lyle Waddell said that despite the probe, Kuivila is still on duty and serving as chief. Waddell also declined to comment about the allegation or the disciplinary action that should be taken against Kuivila, who was hired as chief in 2009.
The allegations are not the only issues council has with Kuivila. Last December, council ordered Fritz to submit an issue to the Ohio Ethics Commission regarding the chief's relationship with a Ford dealer in Garrettsville.
Kuivila has reportedly been a conduit to help the dealer sell cars to area police departments, and council has questioned whether Kuivila is actually working for the dealer.
"I sent the application to the commission earlier this month, but they don't report to me," Fritz said. "It's in their hands, and it's up to them to make [their findings] public."
Kuivila did not attend the council meeting and could not be reached to comment. He did not return a phone call from The Vindicator last week asking for comment about the allegations made by the female employees.