49ers' Smith handles backup role with class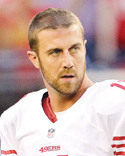 ---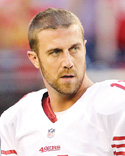 Photo
QB Smith handles backup role with class
This isn't how he envisioned spending Super Bowl week
Associated Press
Santa Clara, Calif.
Alex Smith ran off the field at Candlestick Park two weeks ago to a standing ovation and cheers from the sellout crowd, not much different from the reception last January when he took the San Francisco 49ers oh so close to a Super Bowl.
Now relegated to a backup role with the NFC champions, Smith's trip to the Big Easy this week leading up to Sunday's Super Bowl against Baltimore is hardly how he envisioned it.
This used to be his team. Now, he plays Joe Flacco in practice.
Smith expected to be under center chasing the franchise's sixth championship, not watching strong-armed second-year pro Colin Kaepernick direct the offense against Ravens star Ray Lewis and Co.
"I think a lot's being made of that. For one, I'd be lying if I said it wasn't a little bittersweet," Smith said. "Yeah, I want to be out there. That's what you work for. Coming into the season, that's what I was thinking about. That was the mindset for me; that was the goal for me. At the same time, it is a team sport and these are all my teammates."
As he has done during each such trying time in an up-and-down career full of them, Smith has handled the change with class and the shared team-first attitude that is a big reason his club made it this far.
And Smith, the No. 1 pick from the 2005 draft out of Utah, left no doubt that he would appreciate and relish the rare opportunity before him.
"Absolutely, yes, very much so," Smith said of enjoying this experience despite the high-profile, midseason demotion.
Smith acknowledged when he lost the job to Kaepernick back in November that he had done nothing wrong but get hurt. Not only had he completed 26 of his previous 28 passes — 18 of 19 for 232 yards and three touchdowns without an interception and a 157.1 passer rating in a Monday Night Football win at Arizona on Oct. 29 — but Smith earned NFC Offensive Player of the Week honors after that victory.
He then sustained a concussion in the second quarter of a 24-24 tie against St. Louis on Nov. 11. He sat out the next game as Kaepernick dazzled in his debut as an NFL starter, beating the Bears handily at home on Monday Night Football.
After that, coach Jim Harbaugh stuck with the "hot hand," as he regularly put it, while complicating matters by still referring to Smith as a starter.
The eighth-year quarterback is already fielding his fair share of questions about how it feels not being on the field for the biggest moment in a player's career.
"If you can't be happy for them, then something's wrong with you," Smith said of his teammates.
Smith revealed last week that he actually got his shot in college when the starter went down injured. At Utah in 2003, starter Brett Elliott broke his wrist on the last play of the game in the second week of the season. Smith took over, and Elliott wound up transferring to Division III Linfield College.
So how could Smith possibly be angry at Kaepernick?
"It'd be pretty hypocritical to be upset about it," Smith said. "It's the nature of sports. He got an opportunity, stepped up and made the most of it."
Smith made a few things clear: No, his confidence isn't shaken, and, no, he hasn't thought about what's next — where he might end up, or as a starter or a No. 2. When the 49ers faced Arizona to end the season, Smith was asked if he looked at his brief playing time as an audition to be the Cardinals' QB for 2013.
Not with unfinished business this season.
"He's a very classy guy," said Packers QB Aaron Rodgers, in Smith's draft class.
San Francisco lost to the eventual Super Bowl champion New York Giants 20-17 in overtime of the NFC title game last January.
Smith has said all the right things and quietly left much unsaid. He has stayed behind the scenes and out of the spotlight — rarely seen in the locker room, even — praising Kaepernick's clutch decision-making and cool demeanor all the while.
"Alex has been a class act as far as handling everything that is going on," tight end Vernon Davis said. "He's been through a lot. But he also understands that it's the nature of the business. And this is a business."