How can the Valley narrow the gap?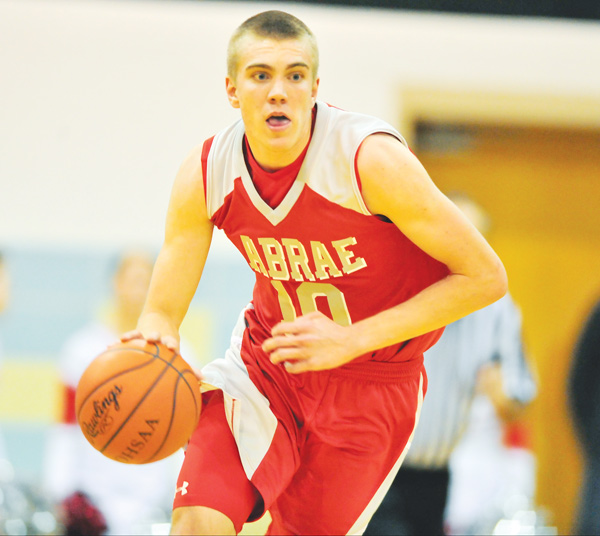 ---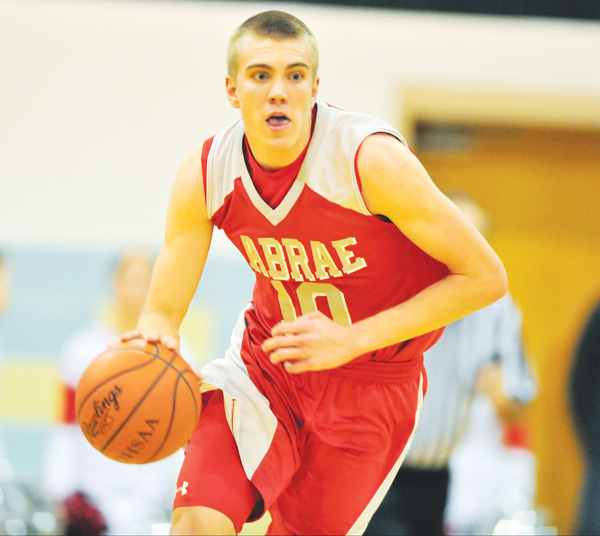 Photo
LaBrae junior Peyton Aldridge has honed his game in the off season by playing with one of Ohio's top AAU teams — one of the keys to competing with the state's best.
What can Mahoning Valley basketball teams do to compete with the best programs in Ohio?
By Joe Scalzo
Twenty years ago, Girard and Campbell gave the Mahoning Valley two boys state basketball champions in the same year for the first — and last — time.
And it's been 19 years since any Valley boys team has cut down the nets in Columbus.
When a local coach (who shall remain nameless) was asked what Valley teams need to do to break that streak, he laughed and said, "Do what Girard and Campbell did."
Those 1993 teams were aided by a pair of Bahamians, Florida Atlantic recruit Phil Huyler for Girard and Walsh recruit Michael Farrington for Campbell. Sad thing is, for most Ohio schools, the easiest road to a title is by adding a passenger or two to the team bus.
"Look at what's happened in Cleveland — you've got kids transferring left and right, trying to find the best basketball program," said Ursuline boys basketball coach Keith Gunther. "In our area, that's not going to happen. It's not allowed to happen and it probably shouldn't happen.
"As much as people point the finger at schools like Ursuline, most of the basketball players around here pretty much stay where they're at from their freshman year on."
That might be good for school pride, but it's not as good for the trophy case.
"Let me put it this way and I'll try to be politically correct — I think there's a lot of teams [around the state] that, quote-unquote, find players," said Canfield girls coach Pat Pavlansky, whose 2008 team narrowly lost in the Division II regional finals to eventual state champion Hathaway Brown, a private school that has been dogged by recruiting allegations. "And the teams that don't have to go and play those kinds of teams."
While that could change next year — Ohio's principals will vote in May on separating public and private schools in the postseason — there are plenty of other things Valley teams can do to narrow the gap with the rest of Ohio.
Here's five suggestions:
Play AAU basketball.
LaBrae's 6-foot-7 junior standout, Peyton Aldridge, is not only the Valley's lone Division I prospect, he's the only Viking who plays AAU basketball in the offseason.
AAU basketball isn't as popular (or as good) in Youngstown as it is in other parts of the state, which is why Aldridge plays with Team Work, which draws players from all over Northeast Ohio.
"You can tell he's played some high-level AAU," Gunther said. "If you're a really good player from Columbus, Cleveland or Cincinnati, it's pretty much automatic that you're playing AAU."
Two years ago, Gunther had maybe the best team in his 10-year tenure, but when the Irish went against Cleveland Central Catholic's Anton Grady (now at Cleveland State) in the Div. III regional final, they had no answer.
"He annihilated us," Gunther said. "He was a kid who had played AAU all around the country. We had some kids who played local AAU but when you put his level of competition against ours, there was a separation.
"When you play against higher-level competition for most of the summer, then you come up against guys in high school ball, you not only have an athletic edge, but also a mental edge."
But not too much AAU.
Poland boys coach Ken Grisdale, who has sent three teams to the state tournament since 2002, believes AAU sometimes does more harm than good.
"I'm not a big fan of AAU unless you can get your kids with the kinds of coaches you want," Grisdale said. "I don't think they get better, I think they just play a lot of games.
"You can get better playing but you can't get BETTER, you know?"
That leads to the third tip.
Focus on fundamentals first.
"I think people have traded skill work for play," Grisdale said. "You've got to work on fundamentals."
Niles boys coach Ron Price narrowed in one on in particular.
"For me, it's shooting the basketball," he said. "You see so many teams that can't shoot. We're not a great-shooting team but shooting is something we stress a lot.
"If you can handle the ball and shoot it, you're off to a good start. Everybody can rebound and defend and all those things. But it's no fun if you can't shoot."
Share the athletes you already have.
While the Valley has lost population over the last few decades, it's lost very few schools, which has thinned the talent base.
While every coach would prefer his (or her) players focus solely on basketball, it makes a huge difference when someone like Canfield's Sabrina Mangapora, a Ball State volleyball recruit, keeps playing basketball.
"We've been lucky at our school that we have so many two or three-sport athletes," said Pavlansky, whose daughter, Allison, was The Vindicator's tennis athlete of the year but still plays basketball. "To me, basketball takes more skill and time to develop than a sport like soccer, but I don't mind if you play soccer. I don't care if basketball is your third sport. Just play."
Schedule tough teams.
While playing in a conference may benefit a school's overall athletic program, it can also hurt a specific sport. (Maybe the only way to get a frown out of Lowellville's girls coach, Tony Matisi, is to ask him about playing in Tier Two of the Inter Tri-County League.)
If you have a state championship-level team, unless you're playing in a conference like the Federal League, it usually pays to be independent.
And if you're not? Stack your non-conference schedule.
"Not being in a league prepares us, no doubt about it," Gunther said. "The years we've gone to the regional, we played teams like St. V [Akron St. Vincent-St. Mary], St. Ed [Lakewood St. Edward] and Massillon. The competition you see around here is no comparison to what you see in the tournament.
"Look at our football team. With the schedule they play, if they get in the playoffs, watch out. That's just reality. And it's the same thing in basketball."