Mooney's McWilson decommits from NU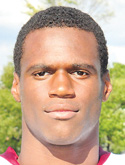 Photo
By Joe Scalzo
YOUNGSTOWN
When Cardinal Mooney safety Marcus McWilson verbally committed to Nebraska midway through his junior year, he wanted to take some of the stress out of his college future.
On Sunday, he decommitted for the same reason.
McWilson, who is now leaning toward Kentucky after taking an official visit to the school this weekend, said he will take a few days before making his decision. Signing day is Feb. 6.
"This gets some stress off me," McWilson said Sunday. "I want to sit back and look at things myself and make a decision without being tied down to one school.
"Someone is going to get hurt either way, so I've just tried to be straight up with the coaches about what I'm going to do."
Mooney High graduate Vince Marrow recruited McWilson to Nebraska. Marrow, a graduate assistant for the Cornhuskers, left for Kentucky in December to become the tight ends coach under Mark Stoops.
Stoops, who was hired in December after a three-year stint as Florida State's defensive coordinator, is also a Mooney graduate, as is Nebraska head coach Bo Pelini.
Marrow's Kentucky pitch boiled down to two things: geography and competition. Lexington is a six-hour drive from Youngstown, compared to a 14-hour drive to Lincoln. Also, Kentucky competes in the nation's top conference, the SEC, while Nebraska plays in the Big Ten.
"After I went to Kentucky, I realized there's more out there than what one school has to offer," said Marrow, who said the decision will come down to either Nebraska or Kentucky. "Now I'm going to take a couple days and talk to my coaches and my mom and dad and weigh the pros and cons and decide what the best fit is for me.
"The biggest thing is where I'll be comfortable. They're two teams with two great coaches."
McWilson announced his decommitment on his Twitter account on Sunday, although he's been hinting at the decision all weekend. (One post read "Stoops or Pelini" and another said "SEC or Big 10.")
Not surprisingly, some Nebraska fans aren't happy.
"I have people on Twitter saying, 'Oh, we hate you,' and my phone has been lighting up all day," McWilson said. "It's funny, these people are following me but they don't know me.
"You have people who hate you if you don't go to their school."
McWilson, who helped lead the Cardinals to the Division III state title in 2011, was a first team all-Ohioan last fall. His teammate, linebacker Courtney Love, has already enrolled at Nebraska for the spring semester.
"My scholarship is still there [at Nebraska]," McWilson said. "The coaches aren't happy about it [the decommitment] but I don't know who would be.
"It's dog-eat-dog out there and it comes down to business. I have to mull over everything and do what's best for myself."