Marine dad keeps watch over Austintown Elementary
SEMPER FI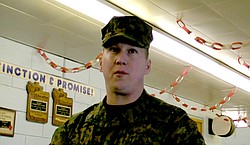 Video
For retired Marine Staff Sgt. James Skok, the weather outside Watson Elementary is more like his tour in Iceland than his tour in Iraq, when his unit pulled down a statue of dictator Saddam Hussein. But as the snow falls, Skok keeps watch on the outside to protect the students and staff inside the school. "You just never know," Skok said. "One guy in an apartment building could be having a bad life and decide to take it across the street [to the school]. That's why I'm teaching them to be observant. I just start looking out for the worst extremes."
By Susan Tebben
AUSTINTOWN
For retired Marine Staff Sgt. James Skok, the weather outside Watson Elementary is more like his tour in Iceland than his tour in Iraq, where his unit pulled down a statue of dictator Saddam Hussein.
But as the snow falls, Skok keeps watch on the outside to protect the students and staff inside the school.
"You just never know," Skok said. "One guy in an apartment building could be having a bad life and decide to take it across the street [to the school]. That's why I'm teaching them to be observant. I just start looking out for the worst extremes."
Skok was in the Marines from 1992 to 2010, when he retired after a back injury kept him from performing at his best. A 1990 graduate of Austintown Fitch High School, Skok came back to Austintown, got married, and became a father to his two stepdaughters, Madison and Danika Bucko. He became a self-proclaimed "Mr. Mom" to the 8- and 5-year-old and for the most part kept to himself.
"I'm telling you, being a Mr. Mom is an eye-opener. I'd ask any man to do it for a week and realize how much work there is to be done," Skok said. "My hat's off."
But in December, when 20 children were killed by a gunman who stormed into Sandy Hook Elementary in Newtown, Conn., Skok saw other veterans jump into duty at schools nationwide.
"I started doing my own investigation into how many times that had happened and saw that other members of the military were helping out in schools," Skok said.
His stepdaughter asked if he could do it here, and that was all it took for Skok to dust off his camouflage and ask if he could help at their school.
After a talk with Watson's principal, Sheila Palumbo, and Superintendent Vincent Colaluca, Skok was welcomed into the school to patrol during the day, greet visitors at the doors and watch the buses as they leave at the end of every day.
Trained in martial arts and security forces work, Skok is applying everything he learned as a Marine to his work at Watson.
"I think it's a great tribute to all those who have served," Colaluca said. "He's a father and a community member in uniform, and I think for the kids to see that brings more respect."
Patrolling the halls and the outdoor learning units isn't the trenches of war, but it still has its challenges, Skok said.
"Twenty percent of the kids wondered what I was doing here, and 20 percent thought it was cool that they had a GI Joe at their school," Skok said.
His main objective in this work, which he has deemed his "mission," is to watch for suspicious activity, and to recognize and identify when his presence is needed in a situation — whether it be a suspicious person or a frustrated parent in the office.
Though he said armed guards at schools would be a good idea, for most situations he's dealt with, the two-way radios he's instituted for staff are the best tool. The radios had been used for bus communications but were repurposed.
"The No. 1 weapon to fight is communication," he said.
Skok is not paid for his services at the school but believes the chance to work in schools is an opportunity to get more veterans out serving their communities. Police could be there for the law enforcement, but military personnel to patrol as Skok does would be a benefit to everyone, he said.
"Veterans need jobs, the government could pay veterans to have their presence," Skok said. "I'm no hero; I'm just serving my country this way ... what's their excuse?"
While the school district waits for its new buildings to be finished — buildings that are constructed to include the latest security measures — Skok said he will stay at Watson to be a calming presence, if nothing else.
"I pray every day that something won't happen," Skok said. "But I'm glad I'm here to at the very least give [the staff] time to call for help if something does happen. I'd give my life for anybody here, in a heartbeat."