Luther's Table offers food and fellowship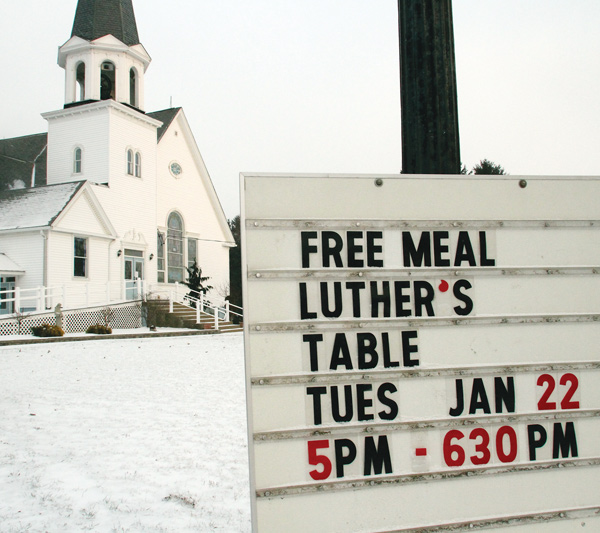 ---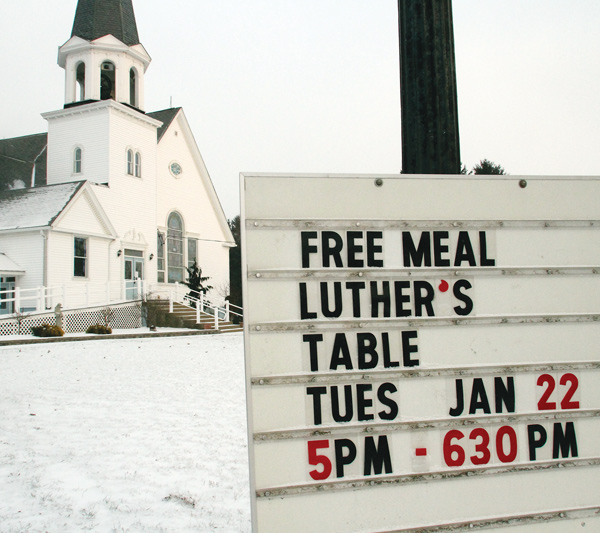 Photo
The sign at Zion Lutheran Church in New Middletown advertises the January meal; future meals, which are open to all, are planned the fourth Tuesday of the month.
By LINDA M. LINONIS
New Middletown
When Wanda Beraduce turned 50, she decided to read the Bible cover to cover.
The learning experience moved her to action based on a recurring directive in the Scripture passages. "Help the poor, help the hungry, help those in need — that stuck in my heart," said the member of Zion Lutheran Church.
Beraduce thought a free meal that would offer physical sustenance and fellowship was the way to go. She presented the idea to the Rev. Larry Klinker, pastor, who supported it, then to the congregation, which got behind it. "The whole church believed in it. I know God supports this," Beraduce said. The free-meal program began last April. There's no income requirement.
The pastor suggested the name Luther's Table. Martin Luther (1483-1546) was a professor of theology and a main figure in the Protestant Reformation. "He was known for inviting people to discussions ... and they just stayed to eat," the Rev. Mr. Klinker said. "They shared ideas and food."
The pastor said the free meal is more than food. "It's a way to reach out to the community and show we care."
The church newsletter makes a point of describing the meal as a means "to provide companionship, fellowship, nutrition [physical and spiritual]" and "strengthen the bonds of community."
Mr. Klinker, who serves as treasurer for Springfield Township Council of Churches, said that vantage point has revealed "a big need."
Zion Lutheran is working to fill a portion of it. Mr. Klinker said the church helps with the food distribution at Emmanuel Lutheran Church, assists with the Salvation Army's Red Kettle Drive, participates in the Crop Walk that combats hunger and serves six times a year at Rescue Mission of Mahoning Valley.
It takes an average of 21 volunteers to cook, serve and clean up at a meal at Luther's Table. It's not only Zion Lutheran congregants but members of Free Methodist, Emmanuel Lutheran, St. John Lutheran and St. Paul the Apostle churches who contribute volunteer hours and donations.
Beraduce said people are greeted at the door and directed to the serving line; volunteers check tables for beverage and dessert choices and then serve them. "We get a diverse group — from families with children to senior citizens," she said.
Though January's event took place on a cold night, Beraduce said 102 meals were served. That topped the 87 count in July, when a picnic took place in conjunction with Bible school.
Cheryl Hawkins does the shopping by couponing for the meals. She works with cooks Peg Dobson, Peg Fraley and Clare Querin to plan the menus. "It's nice to see how people enjoy the meal and fellowship," Hawkins said.
She said she wants this volunteer service to be an example to her daughter, Abigail, 7, about the importance of helping people.
Hawkins said the meals are planned two to three months in advance, which helps her take advantage of various sales. "I want to be cost effective," she said.
She said she buys seasonal produce and in bulk.
Querin, who also is head of the fellowship committee, said "word of mouth" has helped spread the news about the free meal. "It's a rewarding experience," she said of volunteering.
At the January meal, Liz Sargent and Sam Norling of Free Methodist Church were staffing the pie table, cutting and serving slices of blueberry, apple and pumpkin pies to name a few.
"I see it as an opportunity to help out," Norling said. "It's what Jesus calls us to do."
Sargent added, "It's a blessing for me and a blessing for those here."