19-year-old Ryan Blaney comes of age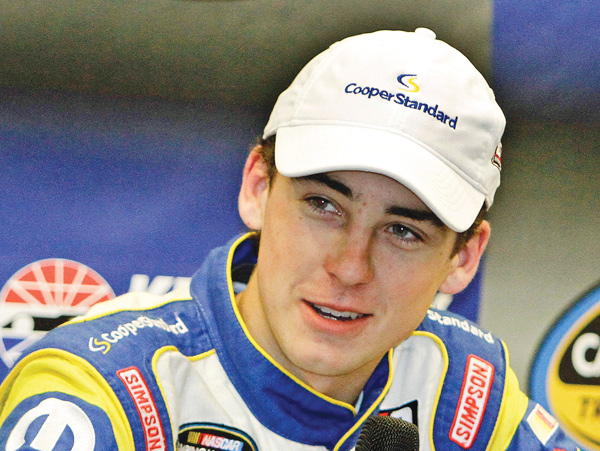 ---
Younger Blaney excited for full-time Nationwide Series ride in 2013
By John Bassetti
Although last week's announcement that Ryan Blaney has been given a full-time ride in the NASCAR Nationwide Series for 2013 was big news, he's made a big leap in something other than his auto racing career.
"Hello, you have reached the cellphone of Ryan Blaney, driver of the No. 29 Cooper Standard Ford for Brad Keselowski Racing."
That's a clear indication that the now-19-year-old Blaney has come of age after showing much promise last year.
The audibly grown-up tone also conveys pride in his new appointment, which came via the Brad Keselowski Racing website.
It read: "The team owned by the 2012 NASCAR Sprint Cup Series champion will field two full-time entries in the NASCAR Camping World Truck Series for the 2013 season."
It added, "2012 was a banner year for BKR, which claimed its first victory behind the skillful driving of Penske Racing development driver Ryan Blaney, who became the youngest winner in NCWTS history at Iowa Speedway in September."
On Jan. 18, from the Blaneys' new Concord, N.C., home — about an hour east of the family's old High Point, N.C. residence — Ryan said: "I'm pretty excited about it [the Trucks assignment]. I'm happy about what we've been able to get."
Full-time ride. New house. Bright future.
Because the son of veteran Sprint Cup driver Dave Blaney was testing the Nationwide car in Nashville, Tenn., last Thursday, he was more familiar with the Ford than he was with his family's new house.
Ryan drove Dodges in both the Nationwide and Trucks series in 2012.
"Yeah, it's definitely a big change, a good change," said the young Blaney, who is committed to 22 Trucks Series races with BKR.
What about Blaney's Nationwide schedule this season?
"I'm not sure," Ryan said recently. "I'm not sure where it stands now," he said of his status with Penske Racing, a team for which he drove the No. 22 car in 2012.
"I'd prefer more [races] in Nationwide — as many as possible, if I could."
BKR's other full-time Trucks Series entry will be the No. 19, which will have multiple drivers as it competes for the 2013 NCWTS owners' championship. Keselowski and his NSCS Penske Racing teammate, Joey Logano, are scheduled to run multiple races. Blaney's father, Dave, will race the No. 19 in the NCWTS' first ever dirt race at Eldora Speedway on July 24.
Keselowski's choice of Ryan Blaney shows his commitment to youth.
Why wouldn't Keselowski when he is just nine years older than Blaney?
"He's done a lot for such a young age," Ryan Blaney said of the Sprint Cup champion's organization that has put its faith in Blaney.
What are Ryan Blaney's biggest challenges?
"There's a bunch of real good guys in Trucks, so it'll be hard to be able to run good against them and stay up there in points," he said. "It'll be real difficult considering who the competition is."
Blaney makes appearances for Camping World Trucks, but said he's not aware of any endorsements.
"No, I don't have any of that, but I've picked up fans," he said. "It's good that people out there support me, so I appreciate that."
Blaney won't test again until early February, when he goes to Disney in the No. 22 Nationwide car.
His first Trucks race will be at Daytona, a few days before the 500 on Feb. 22.
What are his goals?
"To get as many wins as I can and, hopefully, make a good run for the championship. Bringing it home in one piece [not wrecking] every weekend is what you need to do."
No 36 for DAVE BLANEY
It looks like Dave Blaney will return with Tommy Baldwin Racing, but not in the No. 36 car, according to the NASCAR website.
"It is very special to announce the Number 7 on our Chevrolet SS," Baldwin said recently in a return of the number that has been in the Baldwin family a long time.
"It's going to be pretty special to carry on that legacy in the NASCAR Sprint Cup Series," Baldwin said.
Another second-generation racer, Dave Blaney, will pilot the TBR car full-time for the third consecutive year.
Blaney joined the team in late 2010. In 2011, his first full season with the organization, he earned the team's best finish and tied his career-best result with a third-place finish at Talladega Superspeedway.
Robby Gordon previously had run the No. 7 car.
The new No. 7 was on display at Charlotte Motor Speedway last week.
When he was with Richard Childress Racing, Dave Blaney ran in another No. 7 car: the Jack Daniels No. 7.
More like this from vindy.com