Her path turns pain into purpose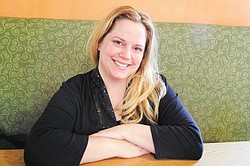 Photo
Roberta M. Cykon of Fowler, above and right, created Integrity Beauty of Women of Excellence to help women who want to reinvent their lives. She says Integrity Beauty borrows from the beauty pageant concept to lead others to Christ. For her efforts, she was named Tiara magazine's Inspiring Woman of the Year and was the cover model of a recent issue. PHOTO BY MADELYN P. HASTINGS | THE VINDICATOR
By Sean Barron
FOWLER
People whose lives have been marked by emotional pain, difficulties and tribulations can give up, succumb to further victimization or choose a much healthier path that includes helping others see their inner beauty and strengths.
Roberta M. Cykon chose the latter, and empowering others is the centerpiece of that path.
Armed with a desire to assist women who wanted to reinvent their lives, she created Integrity Beauty Women of Excellence, a Christian-based association that combines pageantry, advocacy, motivational speakers and members' life experiences to improve others' lives and increase their passion for Jesus Christ.
Integrity Beauty is not a beauty pageant but borrows from such a concept to lead others to Christ, noted Cykon, who's also a Youngstown State University social-work major.
"I wanted to recognize people who learned from their past and turned their pain into purpose," the Fowler woman said as she discussed some of her personal challenges, goals and triumphs recently.
For these and other related efforts, she found herself the cover model of a recent issue of Tiara magazine and was named its Inspiring Woman of the Year.
Cykon also dedicated her organization to the late Helen L. Albert, Trumbull County's first black registered nurse, who died in 2009, and someone Cykon views as a role model.
Cykon recalled a tumultuous childhood and young adulthood characterized largely by verbal, sexual and physical abuse, rejection by her father, alcohol abuse, self-mutilation behaviors and promiscuity. Many of her choices were part of a quest to find love and fulfillment, Cykon explained.
For part of her teen years, she lived in housing run by the Mahoning County Children Services Board, where she befriended and remains in touch with her coordinator, Julia Vandergriff.
A turning point came shortly after her grandmother died when, Cykon says, she vowed to turn her life around.
Efforts to give back included working for the Warren Urban Minority Alcoholism and Drug Abuse Outreach Program as a women's re-entry coordinator, as well as helping women incarcerated at the Trumbull Correctional Institution in Leavittsburg get re-acclimated to society.
"She was an answer to a prayer," Cykon said, referring to Beverly-Jean Pollard, the outreach program's executive director.
Cykon added that she's grateful to mentor those who have made poor decisions, saying they deserve a second chance instead of being chastised and judged.
She also is looking forward to earning her degree from YSU and expanding her ministry-based work.
"So many doors since I started college [in 2011] have opened for me," Cykon added.
Integrity Beauty also has several national ambassadors, including Sherry Stegall of Warren, a Trumbull Business College business major.
Stegall, who met Cykon in 2010 and became an ambassador the following year, said part of her platform is to reach out to domestic-violence victims and troubled teens.
IBWOE is hosting its third annual ball from 5 to 11 p.m. March 30 at the Hippodrome Banquet Center, 150 High St., Warren, to celebrate Albert's life and contributions.
Tickets are $30 each and must be purchased by March 1. To order or for more information about IWBOE, go to www.msintegritybeauty.com, or call 330-442-8185.