Jennifer Harmon, Chad Wright to wed Oct. 12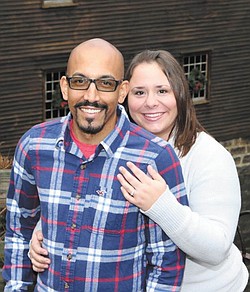 Photo
CHAD E. WRIGHT AND JENNIFER M. HARMON
CLEVELAND
Jennifer M. Harmon, formerly of Berlin Center, and Chad E. Wright, formerly of Youngstown, now both of Cleveland, are engaged.
Parents of the bride-elect are Douglas and Brenda Harmon of Byron Center, Mich., formerly of Berlin Center. The future groom is a son of Brenda Wright of Youngstown and the late John Wright.
The couple are planning a 2:30 p.m. Oct. 12 wedding ceremony at Western Reserve Village Church, Canfield Fairgrounds. They will be honored at a reception at The Elm Tree in Struthers.
The bride-elect received a bachelor's degree in music education from Mount Union College and a master's degree in business administration from Ashland University. She is coordinator of department operations at Case Western Reserve University Department of Music, Cleveland.
The future groom is a warehouse specialist for AMAC Enterprises Inc., Cleveland.