Himeses celebrate 50th anniversary with dinner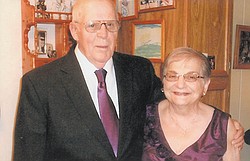 Photo
NEW MIDDLETOWN
Mr. and Mrs. Don Himes of New Middletown celebrated their 50th anniversary Jan. 26 at Blue Wolf Banquet Center in Canfield.
Their children are Mariann and David Mannion of Sebring, Don and Michele Himes of Columbus, and Michael and Melissa Himes of Petersburg.
Eleven grandchildren and four great-grandchildren complete their family.
The former Mary Lou D'Amico married Mr. Himes on Jan. 26, 1963, at Immaculate Conception Church, Youngstown.
The couple are members of St. Paul Church.
Mrs. Himes worked for Kmart in Boardman, retiring in 1998.
Mr. Himes was a crane operator for United Foundry, Youngstown, and retired in 1998. He is a U.S. Army veteran who served as an engineer.