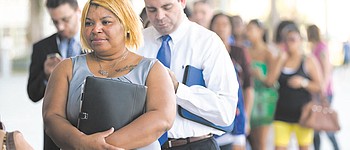 US layoffs keep dropping
Published: 1/25/13 @ 12:00
Associated Press
WASHINGTON
Employers are laying off fewer workers, a trend that normally suggests hiring is picking up. The January jobs report next week will show whether employers have begun to hire more freely or still are waiting for the economy to strengthen.
The number of people seeking unemployment aid has reached a five-year low. Some employers, such as health-care companies, restaurants and retailers, are hiring steadily. Yet overall job growth remains modest. And the unemployment rate is the same painful 7.8 percent it was when Barack Obama became president four years ago.
The economy isn't growing fast enough to accelerate hiring. Flat pay and high unemployment are holding back consumer spending, which rose at a meager annual rate of 1.6 percent in the July-September quarter.
The economy expanded at a 3.1 percent annual pace in the same period, partly because companies stockpiled more goods, which boosts production. Most economists think growth dipped below a 2 percent rate in the October- December quarter because consumer demand remains tepid.
Another factor has been uncertainty about federal spending and budget deficits. Most companies don't seem worried enough to cut jobs. But many may not boost hiring until further progress on the budget is achieved. This month, Congress avoided the "fiscal cliff" in part by postponing automatic spending cuts. And this week, a deadline for raising the government's borrowing cap was put off for three months.
Significant hiring gains are "unlikely ... when there remains so much political uncertainty," said Paul Dales, an economist at Capital Economics.
Don't Miss a Story
Sign up for our newsletter to receive daily news directly in your inbox.