Three wrestlers place at Top Gun tourney

Photo
Boardman 126-pounder Peter Ryan pinned Strongsville's Jame Demio at 3:55 during their match last weekend at Top Gun. Ryan took seventh place in his bracket.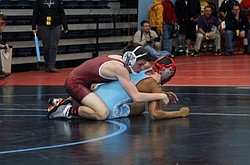 Photo
Boardman's Nick Mancini defeated Alliance's Michael Jefferson by pin at 2:59 of the second period at last weekend's Top Gun tournament. Mancini finished third at 120 pounds.
Three Boardman wrestlers placed in the top eight of their respective weight classes to propel the Spartans to a 13th-place team finish at the ultra-competitive Top Gun tournament last weekend in Alliance.
It was the 11th time Boardman's team has placed in the top 20 in the tournament, which featured 44 teams this year. The Spartans' highest finish at the event was back-to-back sixth-place efforts in 2006 and 2007.
"As always, it was a very tough tournament," said Boardman coach Dom Mancini. "Overall, I thought we wrestled great."
Joe Cordova won four matches by pin in the winner's bracket to advance to the championship bout. In the finals, he was pinned by champion Nate Hall (Olentangy) to finish second.
"Joe got to the finals, but unfortunately got pinned," said Mancini. "Overall, I thought he wrestled well."
Senior Nick Mancini took third in the 120-pound bracket. After winning his first two matches to advance to the quarterfinals, he lost 7-4 to Carrollton's Joey Miller. In the consolation bracket, Mancini won three straight matches to earn a spot in the third-place bout. He beat Lake's Alec Cotton 1-0 in that match.
"Nick was wrestling up a weight class, but still took third by going 6-1," explained Mancini, Nick's dad and coach.
After a loss in the 126-pound championship bracket, Peter Ryan battled through the consolation rounds with three wins. His 5-4 loss in the consolation quarters dropped him into the seventh-place match, which he won by pinfall.
"I thought [Peter] Ryan wrestled outstanding," said Mancini. "In coming in seventh place, he beat some top wrestlers in the state at the tournament."
Claymont captured the team crown with 224.5 points, outdistancing second-place Massillon Perry (196) and CVCA (182.5).
Prior to the finals on Saturday, former Boardman wrestler Justin Powell was inducted into the Top Gun Hall of Fame. He was a three-time Top Gun placer during his career, including titles in 2006 and 2007. He joins Boardman wrestling notables Mancini (2011) and Jerry Pasquale (2010), who were previously inducted.