Diversity breakfast speaker urges students to develop potential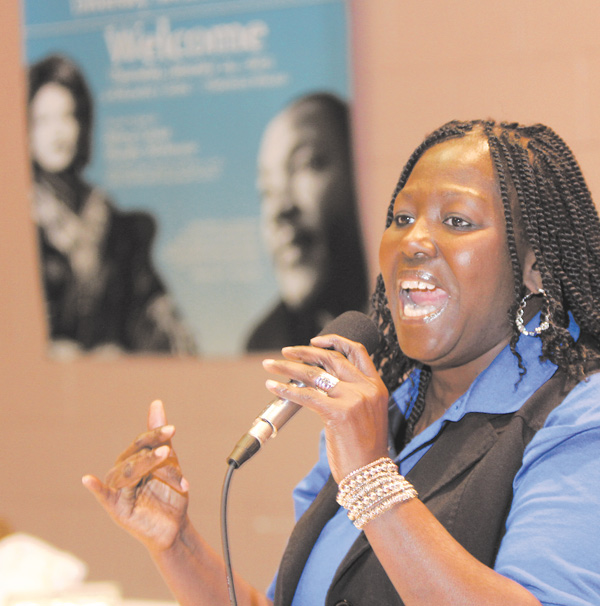 ---

Photo
Linda Crosby, a peer mentor at YSU's Center for Student Progress, performs during the breakfast.
By Denise Dick
Youngstown
The speaker at the 11th annual Rev. Dr. Martin Luther King Jr. Diversity Breakfast urged listeners to keep striving for their goals despite any adversity.
Bishop Vashti Murphy McKenzie, the 117th elected bishop of the African Methodist Episcopal Church, was keynote speaker at the Thursday morning event at Youngstown State University.
She relayed the story of when she was in school and participated in the high jump in track and field. Her father had been a track star during his college days and coached her team.
During practice, one of the assistant coaches would set the bar higher for Bishop McKenzie than for all of her teammates. She asked her father to intervene and tell the assitant to lower the bar, but he wouldn't.
At a big meet, though, the bar was set higher, giving the young athlete an advantage, and she earned a medal at the meet.
Years later, she asked her father why he wouldn't intervene with the assistant coach.
"He said, 'Your potential was greater than your problem, and your problem brought out your potential,'" she said.
Her father's legacy was that no matter what you face in life there always
will be a hurdle, always a challenge.
"Instead of looking at it as a brick wall, allow your potential to help you rise above it," the bishop said.
It's an analogy that may be applied to the work of college students as well. Homework, practice and tests "help you develop your potential," she said.
"It enables you to discover what you can do," Bishop McKenzie said.
In 2000, Bishop McKenzie of Dallas was the first woman elected to the post in the AME's 200-year history. She is the presiding prelate of the 10th Episcopal District of Texas.
An author of four books, Bishop McKenzie has been appointed by President Barack Obama to serve on the President's Advisory Council of the White House Faith-Based and Neighborhood Partnerships.
Cynthia E. Anderson, YSU president, told the crowd gathered in Kilcawley Center's Chestnut Room that we make diversity more difficult than it needs to be.
"Our similarities are so much greater than our differences," she said.