SJIHM crowns spelling bee champion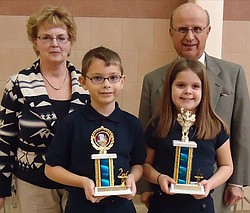 Photo
Neighbors | Submitted.Catherine Wigley (back left) is pictured with Junior Runner-up Dominic Tunno (front left), Junior Champion Olivia Puhalla (front right), Nicholas Wolsonovich.

Photo
Neighbors | Submitted.Catherine Wigley (left) is show with School Champion Eric Shumaker, School Runner-up Julian Johnson, and Nicholas Wolsonovich after the spelling bee Jan. 10.
Back in December, St. Joseph Immaculate Heart of Mary students competed in their individual classrooms (first-eighth grade) to determine who would represent them in SJIHM's annual Spelling Bee.
On Jan. 10, SJIHM'S entire student body, along with staff and parents, gathered to support their individual class champions and runners-up as they competed for the titles of Junior Champion and Runner-up and School Champion and Runner-up.
"Finding the school champion speller proved to be exciting and suspenseful," said Catherine Wigley, SJIHM principal.
The last two spellers found themselves standing for numerous rounds as they continued to spell words correctly. In the end, second-grader Olivia Puhalla was named Junior Champion, with third-grade student Dominic Tunno as runner-up.
Seventh-grader Eric Shumaker was named School Champion and will represent SJIHM at the 80th Annual Regional Vindicator Spelling Bee to be at YSU's Kilcawley Center. Runner-up Julian Johnson (fifth grade) will represent SJIHM as the alternate.
Catholic Schools Superintendent Nicholas Wolsonovich was the pronouncer for the event.