YSU earns big road victory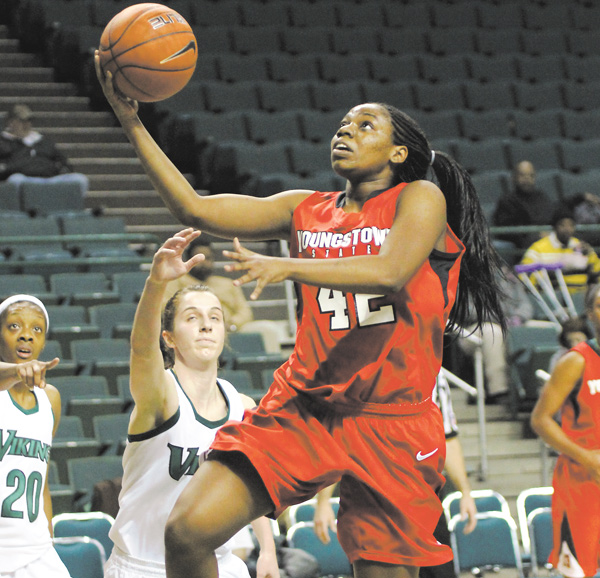 ---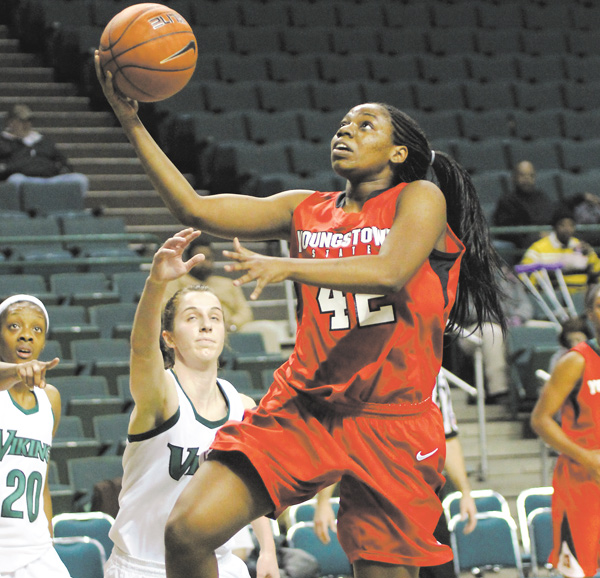 Photo
Youngstown State's Brandi Brown (42) goes for the layup against Cleveland State's Haley Schmitt (40) during the first half of Thursday's game at the Wolstein Center in Cleveland. The Penguins bested the Vikings 72-63 with help from Brown, who matched her season high with 28 points and added 17 rebounds.
By Joe Catullo Jr.
CLEVELAND
Youngstown State women's basketball coach Bob Boldon was noticeably unhappy with his Penguins after Saturday's loss to Green Bay.
"You can either pout [and] hang your head, or you can get to work tomorrow [Sunday] and try to get better," he said.
The Penguins responded positively, never trailed or tied with Cleveland State and won on Thursday, 72-63. It was YSU's first road conference win since March 8, 2008, and first in Cleveland since 2006.
"I think those practices after losses, we all just want to push each other and make each other better," Brandi Brown said. "I think if we practice like that all the time, we don't have to lose in order to feel like we need to win the next game.
"It's all about how we're going to handle this win and if we're going to work hard in practice tomorrow, which we plan on so we can be ready for the next team we play."
The Penguins (12-5, 2-2 Horizon League) led by as many as 15 in the first half before the Vikings (10-8, 2-3) began coming back. Struggling late in the first half and early in the second, Brown took over. She scored 17 points in the second half before fouling out with 55 seconds remaining.
Overall, Brown finished with 28 points and 17 rebounds, putting her 115 rebounds behind Wanda Grant's school record of 1,178. Brown is also 246 points away from 2,000.
"I think that's our struggle, putting together a whole 40-minute game," Brown said. "I think that sometimes we lack energy, we lack attention, we're not focusing well, and I think those little spurts we weren't playing as hard or not playing as well."
Boldon said the 40-minute game is the team's next hurdle.
"I understand it's unfamiliar territory for this program to be up 15 in the first half, but this is the fourth or fifth game over the last seven that this has happened, so we've got to do a better job of finishing halves," he said.
YSU is generally a 3-point shooting team. Through games completed on Sunday, the Penguins ranked seventh in Division I basketball with 8.4 3-point field goals per game. They also made at least seven 3-pointers 34 times in the last 46 games since last year's season opener.
Thursday was a different offensive outburst, making five out of 13 3-pointers overall and only one in the second half.
"They traditionally do a good job of taking away our 3-point shots," Boldon said. "But at any point, we're not just a 3-point shooting team. We were 5 of 13 from the line, which was a low number for us. I thought we did a good job getting what they gave us."
YSU returns home to face Loyola on Saturday.
"For now it feels really good," Boldon said. "At the end of the day, it's a win instead of a loss, and we've got to play again on Saturday. And if we lose that game, you'll be asking me what does a loss at home do to you this time."