PANDA Leaders Clubs active in Boardman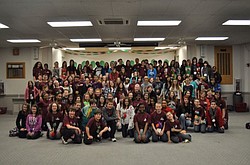 Photo
Neighbors | Submitted.Shown are the 190 members of PANDA leaders clubs at Boardman High School, Center Middle School, and Glenwood Middle School.
Meridian Community Care partners with area high schools and middle schools to sponsor PANDA Leaders Clubs, a prevention program in which students are given the knowledge and skills needed to make responsible decisions about the issues that affect them most today: drugs and alcohol, bullying, depression, violence, cutting, self-esteem, suicide and more.
When combined with the support of like-minded peers and action steps planned and implemented by club members to address specific problems within their school, this knowledge gives students a sense of purpose and empowerment to resist the temptation to experiment with drugs, alcohol and other negative behaviors — and can play a strong role in helping youth make positive choices and maintain a healthy lifestyle.
In the Boardman school district, PANDA has been growing in influence and membership in recent years. Center Middle School's PANDA continues to have a strong presence among the student body. Glenwood Middle School's and Boardman High School's PANDA Clubs have grown steadily since they were established. At present, total membership in PANDA in the Boardman School District has reached 190 students.
The influence of PANDA Leaders Club also extends to younger students in the Boardman district, as PANDA members regularly speak to and interact with students at Stadium Drive, West Boulevard, Market Street and Robinwood Elementary schools.
"With the support of the leadership in Boardman Schools, their PANDA program has set an example for other school districts in our area of how to run an effective program," said Larry Moliterno, CEO of Meridian Community Care. "We are proud to be partners with Boardman in building the next generation of leaders."
Individuals or organizations looking to find out more about PANDA or to donate to this cause may call Prevention by Meridian at 330-797-0070.
More like this from vindy.com