Champion's Kiser hits 1,000th in win over Campbell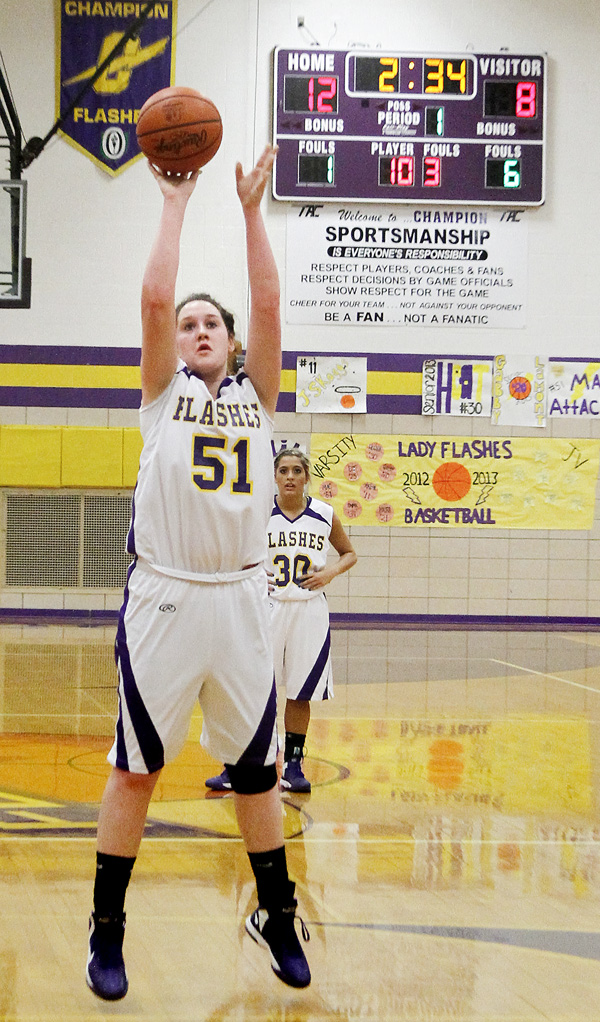 ---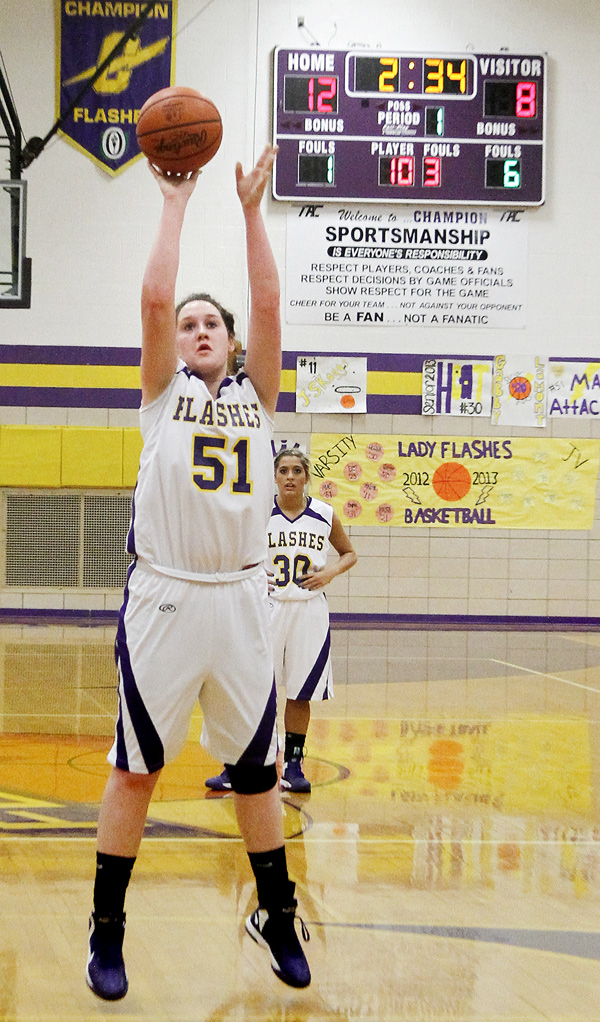 Photo
Champion's Mackenzie Kiser shoots her 1,000th career point on a free throw during the first period of a game Thursday against Campbell at Champion High School. The Golden Flashes routed the Red Devils, 61-22.
By Matthew Peaslee
CHAMPION
It might as well have been a 47-yard field goal to send her team to the Super Bowl.
Champion's Mackenzie Kiser stood at the foul line after making her first of two free throws in the first quarter of Thursday's game against Campbell.
Then, Red Devils coach Kevin Douglas called a full timeout.
After the break, a de facto "icing of the shooter," Kiser sank the last foul shot which was also the 1,000th point of her four-year career.
"It was a relief getting it off my shoulders, knowing that I accomplished that goal," Kiser said after the Golden Flashes' 61-22 win. "It was so close and I just wanted to get it over with.
"Now, we move on keep scoring, and keep winning games."
Before they do that, Kiser (who now stands at 1,015 points after a 23-point performance) and the Champion faithful were treated to a cake, with her picture on it, in the cafeteria.
"This just doesn't happen," Flashes coach Jeff Thompson said. "A lot of kids think, 'Oh, you just have to shoot the ball.' She's earned everything that she's got.
"You just look at all she's overcome and the player that she's become over the years. You have to be proud of her efforts. She's inspirational in how hard she works."
Kiser, the daughter of LaBrae boys coach Chad Kiser, is the third 1,000-point scorer coached by Thompson.
At Bristol in 1994, Allison Beech set the mark and in the 2008 season at Champion, Elizabeth Ghinda reached the milestone.
"I'm extremely proud," Chad Kiser, who received the game ball, said. "Mackenzie's been around the game since I started coaching at LaBrae 14 years ago. She was a ball girl when she was 4 and would always stick around to shoot in the gym."
Campbell (0-14, 0-7 All-American Conference National Division) played Champion (9-7, 5-2) close in the first quarter, only trailing by two in the final 90 seconds.
Kelly Robinson's fadeaway from the top of the key as the buzzer sounded made it 16-11 at the end of the first.
Then, to close out the second, Carissa Hurst made a last-second shot for a 26-13 halftime score.
Ending the third quarter, Kiser drained a buzzer-beating 3-pointer.
"Pretty crazy," she said.
At the beginning of the second quarter, Gabby Lamont crashed head-first into a wall beyond the baseline while tracking down a lose ball. Play was stopped for five minutes and she looked to be out for the rest of the game. However, she re-entered in the fourth quarter and finished with five points, two assists and a steal.
"Gabby has really improved and has a great passion and drive," Thompson said. "We've got an inside and outside game. For us to be successful going forward through the tournament, the ball has to go through Mackenzie and Gabby.
"Plus, Jordan Skaggs can handle the ball and Heather Shaver plays solid defense."
Skaggs finished with four points, five assists and a steal. Shaver added seven points, three assists and a steal. Off the bench for Champion, Emma Nicholas and Carissa Hurst each had six points. Kiser grabbed 16 of 34 rebounds.
The Golden Flashes scored 17 points in the third and 18 in the fourth, while holding the Red Devils to just nine in the second half.
"We just settled down and played our game with solid defense," Thompson said. "We had some great looks. The second half was how we wanted to play."
Britney Williams led Campbell with 10 points, Joanna Villanueva added eight and Aaliyah Hakkem grabbed eight rebounds.
More like this from vindy.com