Mayor Sammarone will file today for council president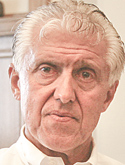 Photo
YOUNGSTOWN
Mayor Charles Sammarone said he will file nominating petitions today to run for his former seat as president of city council.
Sammarone, who turns 70 Feb. 5, said he decided not to run for mayor because the full-time job is too demanding in terms of time that he would prefer to spend with his family, particularly his grandchildren.
Sammarone said Thursday he'll file today to run in the May 7 Democratic primary for council president. As of Thursday, no one had submitted nominating petitions with the Mahoning County Board of Elections for that seat.
Feb. 6 is the filing deadline for the primary. May 6 is the final day to file to run as an independent in the November general election.
Sammarone, a 17-year council president, said returning to his former position will allow him to remain closely involved in city government and give him the time he wants to spend with his family.
Even before he became mayor Aug. 1, 2011, Sammarone often said he was "99 percent" sure he wouldn't run for that job in the 2013 election. He reconsidered his decision Dec. 17, but told The Vindicator on Jan. 7 that he wouldn't get in the mayoral race and instead would seek the council presidency.
When then-Mayor Jay Williams accepted a position in the President Barack Obama administration, Sammarone, who was council president at the time, succeeded Williams and is serving out the remainder of the mayoral term, which expires Dec. 31, under city charter rules.
Those who've filed in the Democratic primary for mayor as of Thursday are: John McNally IV, a former county commissioner and city law director; council President Jamael Tito Brown, who also served as 3rd Ward councilman; and Matthew Smith, who unsuccessfully ran for elected city office in the 1980s.