Canfield streak hits lucky 13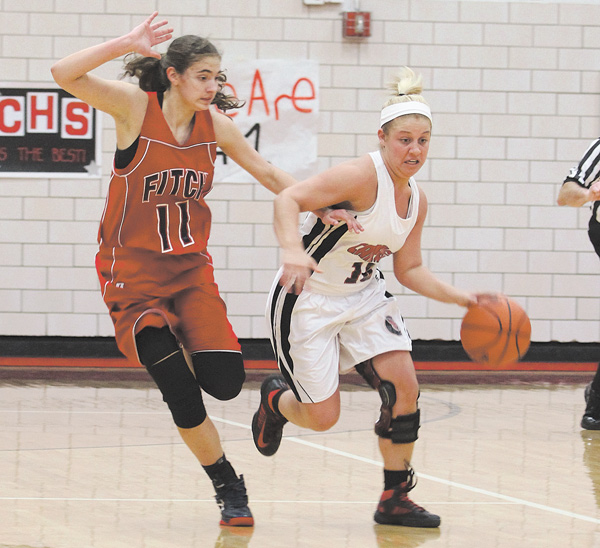 ---

Photo
Canfield's Paige Baker (10) tries to get past Fitch defender Megan Sefcik (11) during their basketball game Thursday at Canfield High School. The Cardinals defeated the Falcons, 63-57.
By Ryan Buck
CANFIELD
When he studied his team's schedule before the season began, even Canfield coach Pat Pavlansky wasn't very optimistic that his talented squad could weather this grueling four-game stretch in eight days.
"I just told them in the locker room and I think they're upset with me," said Pavlansky after the Cardinals defeated Fitch, 63-57, on Thursday. "I didn't think we'd go 4-0 in this stretch because that's just a really difficult stretch in eight days to just grind through."
A road win over Howland, humbling Struthers at home, and a come-back victory over Hickory in Monday's See Them Rise Basketball Showcase at Covelli Centre led up to the showdown with the Falcons, whose only conference loss came to the Cardinals on Dec. 17.
Pavlansky, however, sensed his team, in the midst of a 13-game win streak, was ready.
"They're like, 'Coach, we like playing games this time of year. Schedule a game every night of the year if you want to. We'll be ready.'"
For the Canfield High girls basketball team, their wild week has only strengthened their resolve.
The Cardinals answered their coach's call as they clinched a share of the All-American Conference American Division title.
Fitch standout Megan Sefcik's three-pointer brought Fitch to within two with six minutes left in the second quarter. The Cardinals responded with a pair of runs that highlight how dangerous they can be.
On the next trip down the floor, Canfield senior guard Paige Baker drove to her left and threw in a lay-up as she drew the foul.
After Baker's converted free throw, Rachel Tinkey sank a three-pointer from the top of the key, safely behind the screen of Sabrina Mangapora.
Another three-point play, this time from Mangapora, and an Allison Pavlansky lay-in grew the Cardinals' lead to 25-12 with 3:20 left in the first half.
The Falcons made things interesting in the final minutes. Sefcik, the conference's leading scorer, caught fire with 11 of her game-high 21 points. Her spectacular four-point play, a lofting three-pointer as she was fouled, brought Fitch to 60-55 with 14 seconds left.
"My kids didn't give up," Fitch coach Stacie Cepin said. "We got down so many times, didn't give up, just making that effort kind of ran out of time there."
Three Tinkey free throws closed out the game and left Pat Pavlasky admittedly enthused with his team's ongoing mindset.
"We talk about being there before you get there," said Pavlansky. "They were at this game right after the Covelli Centre [game with Hickory]. 'We're there already coach. We know what we need to do.'"