Analysts to Apple: Bow to Wall Street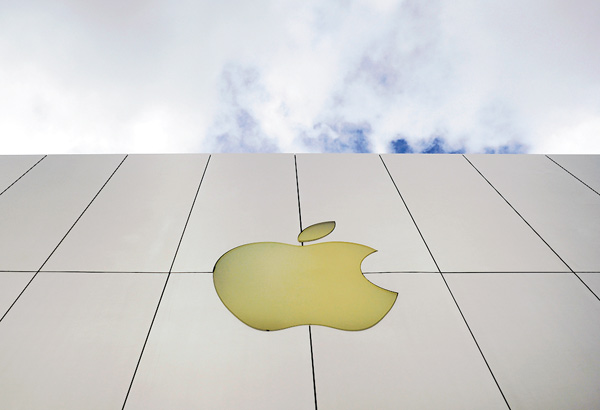 ---

Photo
The Apple logo is seen on an Apple store in San Francisco. Apple shares plunged Thursday after the company reported quarterly results that point to slowing growth after five blowout years.
Associated Press
NEW YORK
Apple needs to come down off its perch and start making nice with Wall Street, analysts said Thursday as investors hammered the company's stock.
The sell-off put Apple a hair's-breadth away from losing its status as the world's most-valuable company. At Thursday's close, it was worth $423 billion, just 1.6 percent more than No. 2 Exxon Mobil Corp.
The plunge was set off by Apple's quarterly earnings report late Wednesday, which suggested the company's nearly decadelong growth spurt is slowing drastically.
The stock ended down $63.51 or 12 percent, at $450.50. It last traded that low a year ago.
What can Apple do to boost its stock? Analysts say it may not be able to win back the investors who bought the stock on the way up. They'll be chasing the next hot stock. But the company can make itself appealing to a new crop of investors who never have considered the stock, by doing what Wall Street wants and doling out more of its massive cash pile in the form of more-generous dividends and stock buybacks.
Apple's profits for the October-December quarter were flat compared with the year before. It still managed to grow revenue 18 percent from the year before, but the cost of starting up production lines for multiple new products such as the iPhone 5 and iPad Mini meant that less revenue flowed to the bottom line.
Of even more concern to investors: Apple's forecast sales growth for the current quarter is about 7 percent compared with a year ago — far from the 50-percent-plus rate it's often hit in recent years.
Apple usually lowballs its forecasts, but Chief Financial Officer Peter Oppenheimer indicated the company will provide more realistic figures from now on.
To be sure, Apple products haven't lost their appeal. Apple CEO Tim Cook said the company couldn't make enough iPhones, iPads and iMacs in the holiday quarter to satisfy demand, so the appeal of Apple's products is intact. The problem is that Apple hasn't launched a revolutionary new product since the iPad in 2010.
It may be too much to ask that a company reinvent consumer electronics every few years, but Apple did it three times in a decade with the launch of the iPod, iPhone and iPad. In doing so, the company left investors with the expectation of perpetually zooming growth.
Now, Apple looks quite different. It's still massively profitable, but its growth is moderate, making it similar to companies such as IBM Corp. and Microsoft Corp.
"The company is at a bit of a crossroads," said Nomura Securities analyst Stuart Jeffrey. "It's gone from launching big, hit products where they didn't have to look at the competitive landscape — they just did their own thing — and the growth meant they didn't have to focus on the whims of Wall Street."
The problem, Jeffrey said, is that Apple hasn't adjusted to this reality and worked to find new constituencies among investors. Those who invest in fast-growing companies or chase rising stocks have abandoned the company, and Apple doesn't do enough to attract value and income investors.