Valley agencies offer shelter, advice for those facing cold
Cold Weather Drives Homeless to Shelters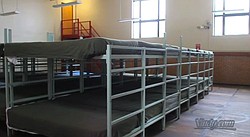 Video
Cold weather has resulted in a full house at the Rescue Mission of the Mahoning Valley
By WILLIAM K. ALCORN | alcorn@vindy.com
Area agencies are offering shelter and food for the homeless and advice for the elderly on how to deal with the frigid temperatures.
Rescue Mission of Mahoning Valley in Youngstown housed 125 Tuesday night and could have taken a few more at its facility at 962 Martin Luther King Jr. Blvd., mission officials said.
The mission, open 24/7, has beds for men and families, and hot meals and clothing are available. For help, call 330-744-5486.
The Warren Family Mission is encouraging people in the community who are homeless or do not have working utilities to get out of the dangerous elements and come to the mission at 361 Elm Road NE in Warren.
Beds are available, and the mission program includes three warm meals a day, monthly food bags and clothing, blankets and furniture, said Michelle Beauchene, director of development and public relations. For help or information, call Beauchene at 330-394-5437, or 330-469-9107 for men needing a place to stay.
The Area Agency on Aging 11 is advising older adults to stay indoors and to be extra careful if they have to go outside when temperatures drop.
"Because older adults produce less body heat than younger people, it is harder for them to tell when the temperature is too low; and if their bodies are in frigid temperatures for too long, it means they lose heat quickly, possibly resulting in hypothermia," said Lisa Solley, agency chief of community relations, wellness and training.
Warning signs of hypothermia include a dangerous drop in body temperature; shivering; cold skin that is pale or ashy; feeling very tired, confused, sleepy and weak; problems walking; and slowed breathing or heart rate.
Extreme cold also can cause frostbite damage to the skin that can go all the way to the bone. Frostbite usually affects the nose, ears, cheeks, chin, fingers and toes, Solley said. In severe cases, frostbite can result in loss of limbs. People with heart disease and other circulation problems are more likely to get frostbite, she said.
The AAA11 also encourages older adults to use caution before going outside unnecessarily and if at all possible, avoid shoveling snow. Older adults who are in need of having driveways and walkways cleared should call AAA11 at 330-505-2300.
If older adults are in need of shelter or need to find warming stations, they are urged to call 211 to be connected to services. Call 911 if anyone is believed to have hypothermia, Solley said.
More like this from vindy.com