YSU men use defense to beat Wright State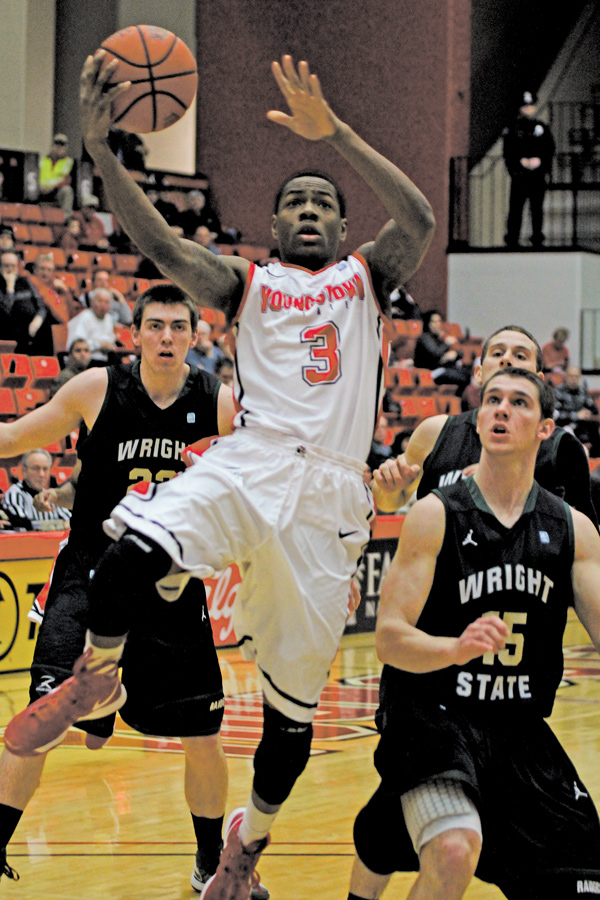 ---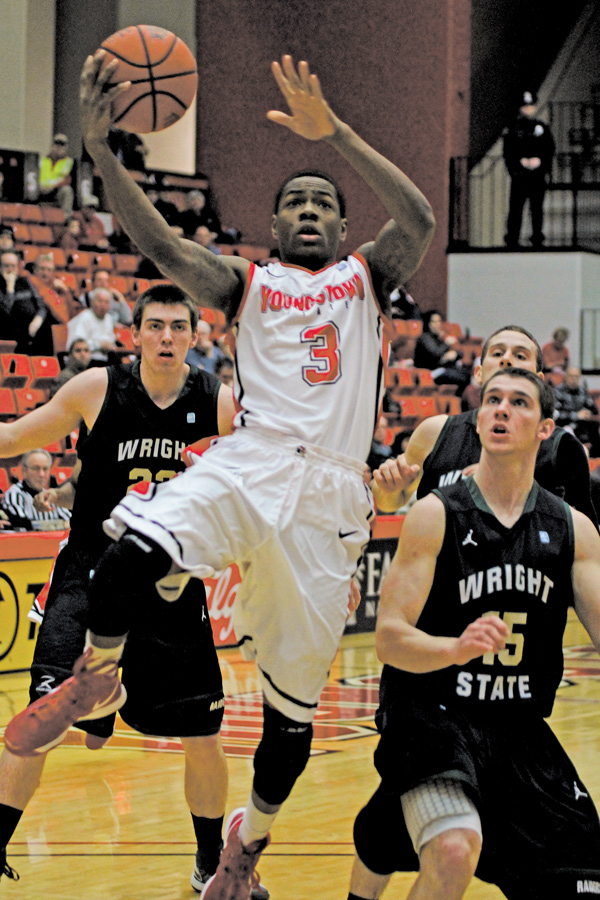 Photo
Youngstown State's Kendrick Perry (3) goes up for a layup around Wright State defenders Kendall Griffin (15) during Wednesday's Horizon League game at YSU's Beeghly Center. Perry had his first double-double of the season with 14 points and 10 rebounds as the Penguins downed the Raiders, 68-61.
YSU uses defense to beat WSU
By Joe Scalzo
Youngstown
Youngstown State senior Blake Allen had just finished off a driving, one-handed layup — which had just finished off the Horizon League's co-leaders — and as he sprinted back to the other end of the floor with a minute left in Wednesday's game, he pounded his chest and stuck out his tongue.
His swagger was back.
YSU's, too.
Two weeks after a nightmarish loss to Detroit, the Penguins finally returned to Beeghly Center — and they brought their game with them. Senior Damian Eargle was terrific on both ends of the floor — a game-high 18 points and five blocks — and Kendrick Perry had his first double-double of the season with 14 points and 10 rebounds as YSU beat Wright State, 68-61.
"Just a classic Horizon League game — blood on the floor," said Penguins coach Jerry Slocum after YSU's first home win over a Division I opponent since the first week of the season. "I think the thing that I'm most happy with is that our people locally and you guys [the media] got to see what I've been seeing on the road. And that is, not perfect play, but tough play. Hard-nosed, guys fighting.
"We brought it tonight at home."
The Raiders (14-6, 5-2 Horizon) entered the game with the league's stingiest defense, giving up just 57 points per game while holding opponents to 40.2 percent shooting from the field. (Only UIC was better, at 39.9.)
But the Penguins shot 50 percent from the floor (24 of 48) and used their defense to frustrate Wright State, which shot just 38 percent from the floor in the second half and had no success inside.
"They had a hard time with our switches [on defense]," Eargle said. "The thing about us is, we've got a lot of bigs that can guard guards. And a lot of people in this conference don't, so it's really tricky.
"Kam was blocking shots, [I] was blocking shots, sometimes even KP [Perry] was blocking shots, which is crazy. We do our work on defense and that's what we take pride in."
Allen also had a block, but it was his 17 points (10 in the second half) that sparked the Penguins. Belin added 10 and sophomore D.J. Cole had five points, five assists and four rebounds in his first home start.
Jerran Young scored 18 to lead WSU (14-6, 5-2), which had won nine of its last 10 against the Penguins.
After playing four of their first five Horizon League games on the road, the Penguins stay home for their next two. Next up is rival Cleveland State on Saturday.
"Obviously that game has a little more meaning, no matter what the records are," Slocum said. "You just can't take it for granted, being at home. You [can't] think you're owed something or whatever.
"We just battled tonight. You guys saw what I saw at Green Bay and Milwaukee — just that whatever-it-takes mindset."
More like this from vindy.com