Pastor Ronald Pyles gets 10 years for rape of disabled woman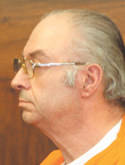 ---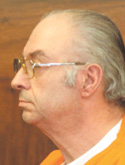 Photo
YOUNGSTOWN
A North Jackson minister will spend 10 years in prison for rape and gross sexual imposition against a 19-year-old mentally disabled woman who lived in his church's homeless shelter.
Judge James C. Evans imposed the prison time Wednesday on the Rev. Ronald Lee Pyles, 59, pastor of Victory Harvest Ministry on Palmyra Road.
Judge Evans, of Mahoning County Common Pleas Court, found Pyles guilty in a nonjury trial earlier this month, but Pyles maintained his innocence at the sentencing hearing.
"You can shake your head as much as you want, but the evidence was certainly prevalent," Judge Evans told Pyles just before pronouncing sentence.
Natasha Frenchko, an assistant county prosecutor, called for maximum, consecutive sentences totaling 15 years, 10 for the rape and five for the GSI, saying Pyles manipulated his position as a pastor to sexually abuse the woman who had been placed in his care.
Defense lawyer David Gerchak described his client as "a good man," who has sheltered the homeless and helped many people overcome alcohol and drug addictions.
Noting that Pyles has no prior criminal record and is in poor health, Gerchak called for a sentence less than the maximum.
Judge Evans noted that Pyles didn't finish high school and has no formal professional education in counseling or the ethical requirements that go with it, but found that he undermined the trust that had been placed in him.
The judge imposed the 10-year maximum sentence for the rape, but made a three-year GSI sentence concurrent with the rape sentence for a total of 10 years in prison, with credit for 225 jail days Pyles has already served.
After he leaves prison, Pyles will be on parole for five years and must register as a sex offender quarterly with the sheriff for life.