Group proposes ethnic heritage center at Hungarian church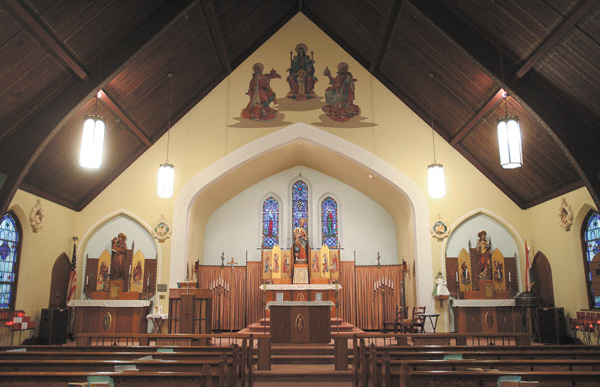 ---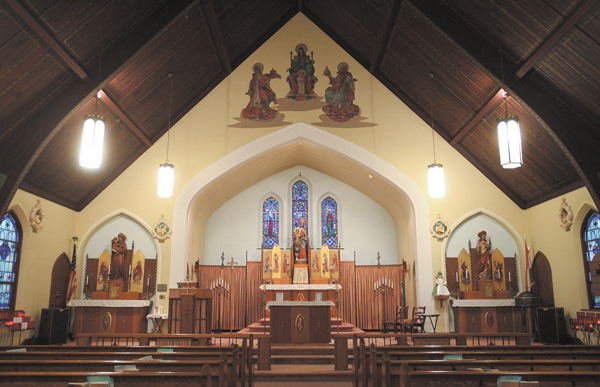 Photo
The sanctuary of Our Lady of Hungary Church in Youngstown, which closed in February 2012, exemplifies Carpathian iconography and symbols of the Transylvania region. Many church members used their skills to build and furnish the church, which dates to 1929.
By LINDA M. LINONIS
Youngstown
A newly formed nonprofit organization has suggested transforming Our Lady of Hungary Church into an ethnic heritage center.
545 Management Group Inc. has submitted a proposal to Bishop George V. Murry of the Diocese of Youngstown. The 545 group plans to use the sanctuary as the ethic heritage center and the church basement as a Youngstown/West Side history center.
The Rev. Nicholas Shori, director of the diocese Parish Implementation Plan, said, "It's safe to say any proposal is worth looking at." He added that any final plan must meet standards of use as set by the diocese.
Mindszenty Hall, which served as the church hall, is being sold to a Valley community organization.
The final Mass at Our Lady of Hungary, 545 N. Belle Vista Ave., was Feb. 12, 2012. In the Parish Implementation Plan in the diocese, which began in May 2010, the church merged with Sts. Peter and Paul Croatian Catholic Church and St. Stephen of Hungary as Holy Apostles Parish.
A transition team assessed locations and finances before deciding to close Our Lady of Hungary, which dates to 1929.
Bob Barko Jr. is president and spokesman for 545 Management Group, which also includes Dennis McBride, former head of Our Lady's parish council, and George Kalosky, whose grandparents were charter members of the church. Barko said even as the team decided to close Our Lady, talk surfaced on what could be done to save it.
"It made a lot of sense," said Barko, who now attends Sts. Peter and Paul but whose family had a lifelong affiliation with Our Lady. He and his wife, Deana, were married Oct. 15, 2011, at the church, the last wedding there.
The 545 group is aware of the financial challenges, he said. The church needs a new roof, new heating and cooling systems and must be made handicapped accessible.
The group, whose 501(c)3 status is pending, has received a $14,000 donation toward its capital campaign goal of $300,000. Contact the group by email at 545managementgroup@gmail.com.
The 545 group has met with the Rev. Joseph Rudjak, pastor of Holy Apostles Parish and member of the Ethnic Heritage Society. Father Rudjak said the project would accomplish various goals. A neighborhood center would be created, the craftsmanship and legacy of Hungarian immigrants who built the church would be recognized and the church building would remain a neighborhood anchor.
Father Rudjak said the church exemplifies Carpathian iconography and symbols of the Transylvania region, the homeland of many founding members.
He continued that the church's wooden ceiling is a legacy of Hungarian immigrants who worked in logging in their homeland then became expert brick layers in Youngstown's industry. Ethnic heritage also is showcased in stenciling that includes the fleur de lis of the House of Anjou, the French connection to Hungarian kings and St. Stephen's apostolic cross in beams in the sanctuary.
The setting itself, Father Rudjack said, is appealing to history-oriented groups as a meeting site.
Contributions to 501(c)3 groups are usually tax deductible to the donor.