Youngstown school board discusses money woes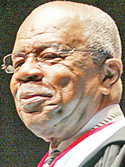 ---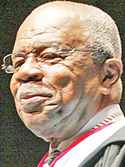 Photo
By Denise Dick
Youngstown
Schools Superintendent Connie Hathorn is meeting with his staff to devise recommendations to address a projected $48 million deficit by fiscal year 2017.
Hathorn said at a school-board meeting that he and his administrators met Tuesday and would meet again today to come up with recommendations for the board. He announced the $48 million deficit projection at an Academic Distress Commission meeting last week.
Board members are concerned.
"There must be a vision for the school district," Lock P. Beachum Sr., board member, told other members. "If not, in five years, there won't be a Youngstown City Schools."
Beachum, who previously has warned of a need to keep finances under control, said possibilities include closing school buildings, privatizing some district operations, changes in school transportation, staff and central-office reductions and increasing class sizes.
"Maybe we need to look at a management study," he said.
The majority of the deficit is caused by the loss of city school students to charter and private schools or leaving the district through open enrollment.
"We can't continue losing students," Beachum said. "You're losing the best students. You can't climb out of academic emergency losing your best students. I doubt we'll climb out of academic watch this year. If we do, it's going to be almost a miracle."
The district needs to be talking to its employee unions about ways to reduce costs, he said.
"You have two choices: Get it together or lose it," Beachum, the board's senior member, said.
Marcia Haire-Ellis, board vice president, agreed that tough decisions need to be made. Many positive things are happening in the district that should be promoted to recruit students to the city schools, she said.
Haire-Ellis suggested an audit of district programs and personnel to find out if some positions can be combined or programs eliminated.
Hathorn said he believes many students leave the district because of transportation. The district doesn't transport students who live within a mile of their school. That sometimes requires young children to walk through dangerous areas.
If a city school student attends a charter school that's more than a mile from his or her home, however, the district transports the student to that school.
Beachum said part of the problem is perception.
"Board members, you have to understand, you need a diversified student population," he said. "The perception is that Youngstown is an all black school district."
The district has lost 90 percent of its white population, he said.
A diversified student population improves the academic performance of all students, Beachum said.
Richard Atkinson, school-board president, said addressing the problem requires everyone working together.
"The problem can only be solved by us," he said.
In other business, the board appointed Preston Mays as the 2013-14 East High School football coach. The 1998 East graduate played running back at Youngstown State University. Jim Vivo, who coached last season, didn't reapply for the job.
Mays told board members he wants his players to display talent on the football field, but he also wants them to do well in the classroom.