Published: Wed, January 23, 2013 @ 5:03 a.m.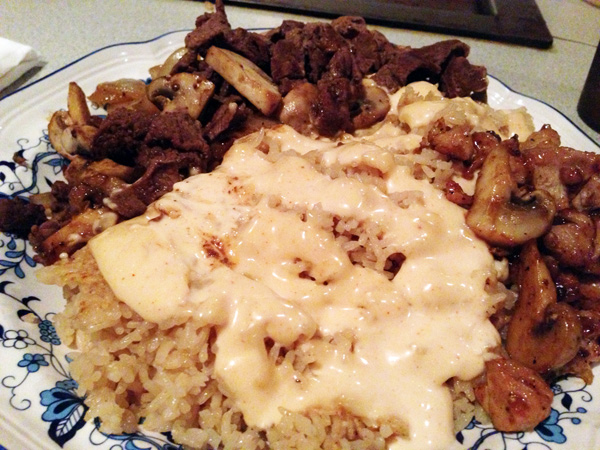 Photo
Steak, chicken, vegetables and rice at Tokyo House.
When You Go...
What:
Tokyo House
Where:
1907 South Ave, Youngstown
Hours:
4 to 7:30 p.m, Monday through Friday
Other:
No credit cards accepted
It was 7 o'clock when the chef finally made his way over to our table to start cooking dinner. Steph, my in-laws and I have been sitting on a raised floor for three hours waiting patiently as he made his way from table to table. We all knew this would happen before we even stepped foot through the door.
You are probably thinking to yourself, why in the world would anyone wait that long for a meal? If you have eaten at Tokyo House on South Avenue, you already know the answer: Because it's one of the most unique Japanese/Hibachi restaurants in the area.
From the outside, Tokyo House isn't much to look at: a building in desperate need of a makeover in a part of town that could use a paint job as well. Don't judge this book by its cover. The 23 years in business and three-hour wait speak for themselves.
Can Dao and his family run this business. Can is the chef and his wife is the waitress, sous chef and busser. That's right — only two people work here since their two children have moved onto college.
Six Hibachi tables that seat eight are positioned inside this small establishment. Immediately, you become cozy with your neigh-bor as your night begins. Laughter from the current table Can is cooking for draws stares from the other patrons waiting patiently. What is he cooking that could possibly be so funny?
The menu is simple: steak, chicken, veggie, lobster, or shrimp over rice. There are combinations of each but if you are looking for something fancy, you are better off eating at one of those lesser chain establishments.
When our table was on deck, Can's wife took our orders. We have the choice to add soup and salad, which we all do. The soup is a clear broth with a stray shiitake mushroom or two. The flavor of the soup is incredible for its crystal-clear appearance. I assume it's achieved from the perfect ratio of broth or bouillon cubes to water. The salad is dressed with ginger and soy that opened our palate for the meal we were about to consume.
As Can made his way to our table, the smells of delicious food being cooked had driven my hunger to new levels. He scanned the table for a second and then a smile came to his face, which meant he remembered us. It has been several years for some of our family since their last visit, but Can seems to remember everyone and specific details about each. It's a special gift I believe certain people possess.
He began by cooking an obscene amount of rice. So much so that as you start to divide it among the table and the few takeout orders he is preparing, you realize you are about to have more than a pound of rice sitting in front of you. After the rice is seasoned and cooked down, he fills your plate with it. For most, this is where they start eating. They drizzle some of the secret sauce that has amazing flavor on top and dig in — not me, though. I am waiting for the completed meal, no matter how tempting it is.
Can moves from rice to meats, separating each on a large cooktop while he seasons each with spices and sauces in unmarked containers. The entire process of cooking has our gaze locked on his fast handwork and almost artistic cooking style. He never misses a beat cracking jokes — some of which are borderline inappropriate but they draw laughter, the same laughter I heard from other tables. There's no doubt that Tokyo House is dinner and a show.
After a half-hour or so, Can is done cooking. The grill is off and I get to finally dig in. My plate is heaping with steak, chicken, vegetables and rice. I drizzle on the secret sauce and take my first bite. It's packed with flavor and variations of different meat textures. There is something more authentic to this dish I don't think you can find at the other chains. It's that authenticity that has kept Can in business since 1990.
At Tokyo House, it's not about getting a quick meal. What you learn is that it forces you to relax in a world driven by technology and speed. Sit down and really enjoy your company. A few hours of conversation with strangers followed by a delicious meal makes Tokyo House one the most unique restaurants in Youngstown. Give it a try if you haven't — you may just discover a new favorite place to eat.