Group seeking investigation of Youngstown Diocese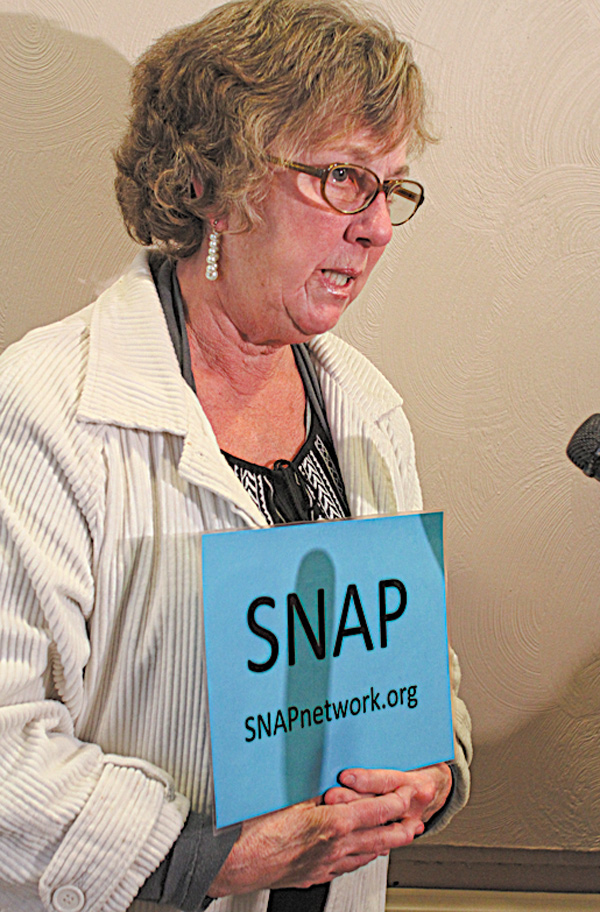 ---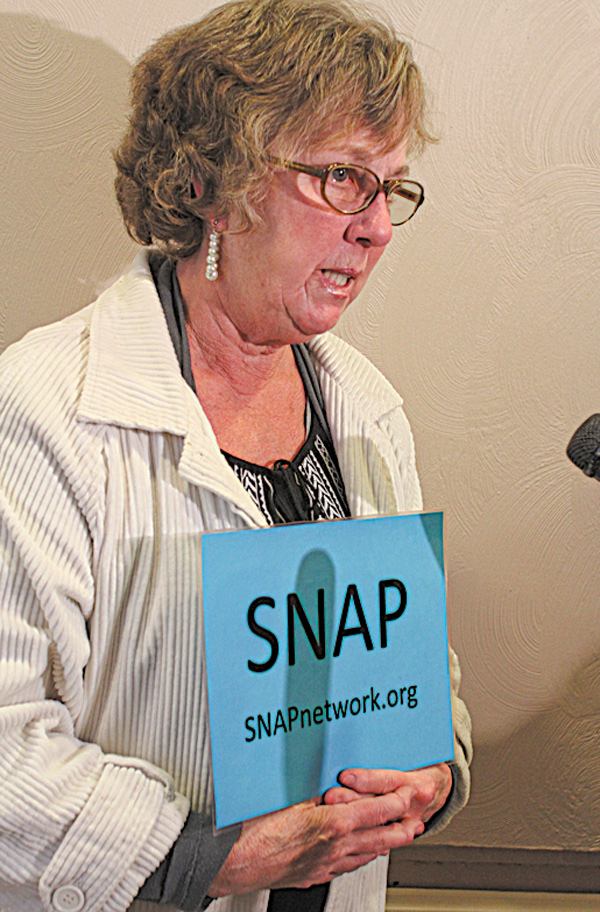 Photo
Judy Jones member of SNAP, Survivors Network of those Abused by Priests, speaks outside the Mahoning County prosecutor's office Tuesday. Jones said SNAP has gotten new reports of sex abuse in the Youngstown Diocese.
YOUNGSTOWN
An advocacy group says allegations against Franciscan Brother Stephen P. Baker have prompted others to come forward with abuse claims against someone still working for the Catholic Diocese of Youngstown.
Survivors Network of those Abused by Priests is calling for any other victims to come forward and file police reports. SNAP also has asked Mahoning County Prosecutor Paul Gains for a grand-jury investigation of the diocese, but Gains explained at a Tuesday meeting and news conference that victims must first go to civil authorities in the jurisdiction where any purported abuse took place before his office can get involved with a probe.
Judy Jones, a representative of the advocacy group for victims of sexual abuse, said two people have come to the organization claiming abuse by someone still working for the six-county diocese based in Youngstown.
She said the purported abuse took place years ago, but the recent stories about Baker motivated them to come forward.
"Since Baker's name has been out there, there are more victims out there. They are calling in like crazy now," Jones said during a news conference Tuesday. Baker taught, coached baseball and served as athletic trainer at Warren John F. Kennedy High School. Settlements have been reached with 11 of Baker's alleged victims, who said he fondled teenagers age 14 to 18 from 1986 to 1990 in the school training room, elsewhere in the school and on trips outside of Warren.
Jones said two men have come forward alleging abuse by someone still employed in the diocese here, but she would not provide any names. She said one of the men is too sick to speak now but likely will come forward in the next week.
In the meantime, Jones said SNAP is asking that anyone who may have been a victim of sexual abuse to tell police. She said victims should go to police because the organization has no faith in the diocese to address the issue.
"We are urging any and all victims to file police reports no matter how long ago this happened. That way we can get it on record," she said. "They [the church] know who these guys are. ... They are ignoring them."
Jones said SNAP is calling on the bishop and the church to make the names of those accused of abuse public and properly protect children or future victims of abuse.
Nancy Yuhasz, chancellor and victim assistance coordinator, said there is no credible report of abuse against anyone working for the diocese.
"There is no one in ministry who has been credibly accused. And if there is someone out there who has been abused, we want them to contact the authorities and then contact us so that we can help," she said.
The diocese is planning a Thursday morning news conference to address the issue.
Gains, too, is encouraging anyone who has been a victim of abuse to go to police so an investigation can begin.
"We need the victims to come forward with their allegations to authorities. ... I cannot conduct a grand jury investigation without victims going to the proper authorities," said Gains.
According to SNAP, since 2002, there have been eight grand-jury investigations into six Catholic dioceses in the United States. Each report was highly critical of diocese officials, SNAP said.