Phantoms among USHL's hottest teams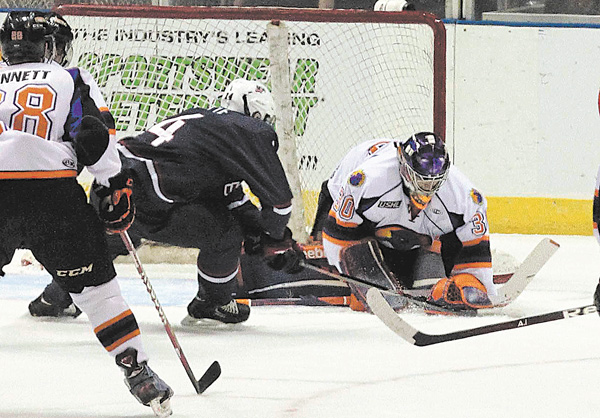 ---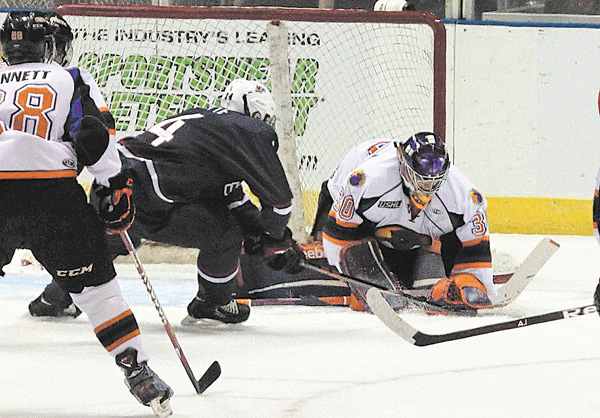 Photo
Phantoms goaltender Sean Romeo stops a shot by Team USA's Tyler Motte during a Dec. 21 game at the Covelli Centre. Romeo's two game suspension is over and he'll be in goal on Friday against the Indiana Ice.
By Tom Williams
BOARDMAN
Having won seven of their last eight games, the Youngstown Phantoms are as hot as any team in the USHL.
That doesn't mean there aren't things to work on in practice.
"It's probably easier to find things to work on [during a winning streak]," Phantoms assistant coach Brad Patterson said after Tuesday's practice at The Ice Zone. "When you're struggling, obviously there are things to work on. "When you are on a roll, we can actually dissect our game, go a little more in depth into things," the fourth-year coach said.
Rob Rassey, the Phantoms' other assistant coach, said that when "things aren't going well for you, it's easy because there's that desperation practice."
Last season, the Phantoms had four four-game winning streaks. They also opened this season with four straight wins before losing 11 of the next 12 games.
During a winning streak, Rassey it's important to stay on the guys "to keep the pace up, to keep the work ethic at the desperation level.
"You don't want to get complacent."
Since the weekend before Christmas, the Phantoms (18-16-0, 36 points) have lost just one game. But some of the wins have not come easily.
Saturday at the Covelli Centre, the Phantoms were without number-one goaltender Sean Romeo who was finishing a two-game suspension. With Jake Moore making his second USHL start, the Phantoms outshot the Des Moines Buccaneers, 53-15, but needed a shootout to escape with a 6-5 victory.
"It was awesome," said Romeo of Moore's performance. "He's been working real hard in practice and he definitely made the most of his chance.
"He let in one soft goal and then he played unreal the rest of the weekend," Romeo said. "I was real happy for him."
Friday, the Phantoms edged the Buccaneers, 4-2, in Moore's first USHL start.
Defenseman Dan Renouf said the Phantoms can do better, explaining that "no one was satisfied" with that game.
"We came in with 3-1 lead in the first period and everyone was upset, everyone was frustrated," Renouf said. "We aren't at our best right now.
"It's really reassuring that we're having these wins even though we aren't at our best."
Romeo admitted it was not easy watching the team's first shootout of the season.
"We've been excited for [the first one] so to be in the stands was tough," Romeo said. "But the win was all that mattered."
Moore stopped all three Buccaneers shooters, which made Sam Anas' goal against Nick Ellis stand up as the game winner.
In the Phantoms' 5-2 win against the Lincoln Stars on Jan. 12, Romeo earned his suspension for fighting Stars goalie Michael Bitzer. Looking back, Romeo admitted the chance to fight might not have been worth the penalty.
"In the heat of the moment, it just happened," Romeo said.
Romeo will be back in between the pipes on Friday when the Indiana Ice (15-22-3, 33 points) visit the Covelli Centre for the first of two games.
"We're playing hard, with high intensity, doing everything that Coach [Anthony Noreen] preaches," Romeo said. "And it's showing on the scoreboard."
Noreen and forward Nathan Walker are in Muskegon, Mich., for tonight's USHL NHL Prospects Game. Walker is replacing Phantoms leading scorer Austin Cangelosi who has an illness but is expected to be able to play on Friday.
In four games with the Phantoms, Walker has scored two goals and made four assists.