Cavs' Varejao to miss rest of the season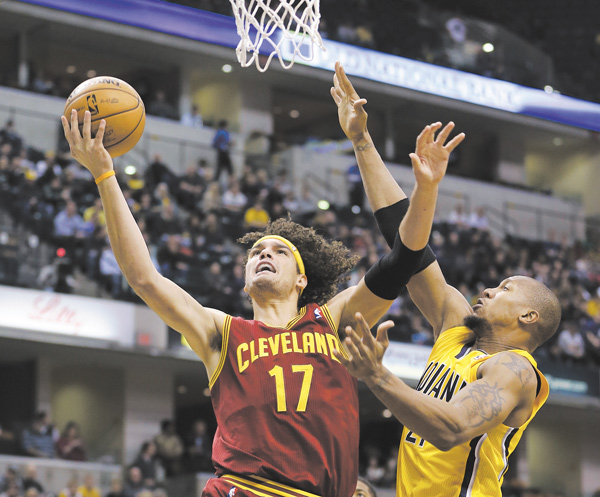 ---

Photo
The Cleveland Cavaliers' Anderson Varejao (17) puts up a shot against the Indiana Pacers' David West during the first half of a game in Indianapolis. Varejao will miss the rest of the season after a blood clot was found in his right lung.
Associated Press
CLEVELAND
Anderson Varejao's season rapidly spiraled from a probable All-Star appearance to over.
The Cavaliers' hustling center, who led the NBA in rebounding before he went down last month with what appeared to be nothing more than a bruised knee, remained hospitalized Monday with a blood clot in his lower right lung, a health scare that will force him to miss the rest of this season.
Varejao, who underwent surgery on a torn leg muscle on Jan. 10, has been at The Cleveland Clinic since last Thursday. The Cavs said he will likely remain in the hospital for several more days as he receives treatment. Varejao is expected to make a full recovery, but he will remain on blood thinning medications for at least three months, the team said Monday.
The loss of the 6-foot-11 Varejao is a crushing blow to the young Cavs, who are just 10-32.
"Losing him already was bad enough for us," star point guard Kyrie Irving said. "The news got worse today. We wish him the best. We're all going to be there for him morale-wise, just try to be there for him as best as we can as teammates. That's all we can do right now."
Despite Varejao being admitted to the hospital four days ago, the Cavs did not reveal he was still there until shortly before Monday's workout at their training facility.
Varejao was having an All-Star-caliber season before he injured his leg on Dec. 18 against Toronto.
More like this from vindy.com