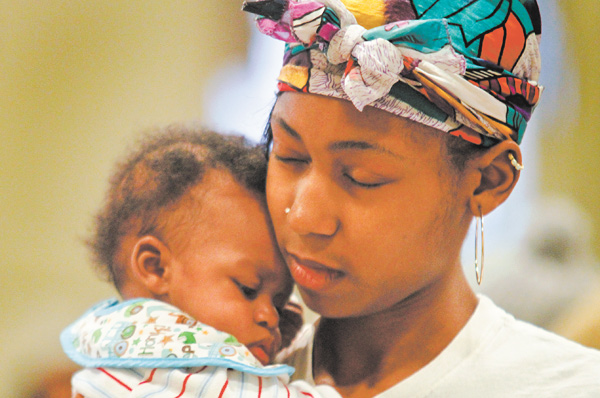 ---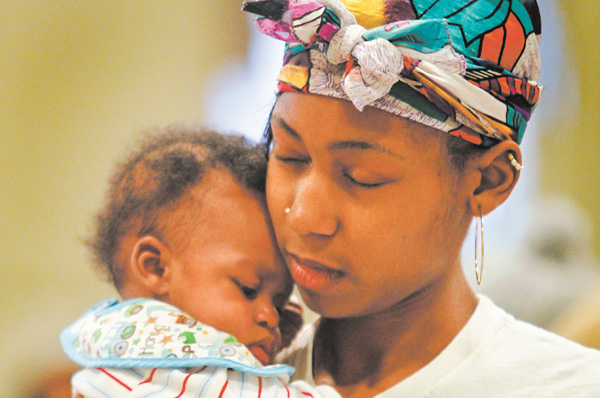 Photo
Mariah Wilson of Youngstown holds her 4-month-old son, Daniel Graham Jr., during a prayer at the Associated Neighborhood Center's seventh annual citywide baby shower that took place Monday at the McGuffey Centre in Youngstown.
By ELISE McKEOWN SKOLNICK
YOUNGSTOWN
Like most baby showers, the decorations were pink and blue, gifts included bibs, diapers and stuffed animals and games were played.
But it had multiple guests of honor, and the moms and moms-to-be who attended didn't know one another.
"It's a baby shower with a purpose," explained Jennifer Miller, director of the McGuffey Centre, where the Associated Neighborhood Center hosted its seventh annual citywide baby shower Monday.
"We started this seven years ago for parents and parents-to-be," she said. "It started as a reading initiative and a health initiative, primarily for inner-city mothers and low-income parents that needed information."
The tie-in with Martin Luther King, Jr. day was natural.
Many people have the day off from work, Miller noted.
"And Martin Luther King was concerned about health care. One of his quotes is 'Of all the forms of inequality, injustice in health care is the most shocking and inhumane,'" she said.
Though a second-time mom, Latara Barnett, of Youngstown, felt the event would be beneficial. She's the mother of 3-year-old LaRayah Hodges and Philant Barnett, 6 months.
A second baby isn't always going to be like the first, she said.
"When [LaRayah] was younger, she was a quiet baby; she never cried; I could put her down, and she could sleep for hours, but [Philant] — we have to hold him and rock him and cradle him," she said.
This was her first time attending the baby shower.
"It's nice to see people get together and do things like this," she said. "I think it's a good idea because a lot of people aren't familiar
with all the stuff that you're supposed to do with your babies."
Toni Clark of Youngstown is also a second-time mother. But this time, she's juggling twins, as well as caring for her 4-year-old daughter, Emani Clark.
The event was a good chance to get out of the house, she said. It was her first time attending the event.
Clark admits there are a lot of things she doesn't know yet.
And every baby's different, she noted.
Her infants, Jay'Lin Clark and Ja'Mere Clark, are 4 months old.
"They're twins, and they're different. They're totally different," she said.
She said she was learning how to relieve stress at the baby shower.
Representatives from various health and social-services agencies were on hand to answer questions and pass out information.
Dee Traylor, coordinator for the Resource Mother's Project at Humility of Mary Health Partners, participated for the second time.
"I think this is good," she said. "This is a good way to get the word out to expecting parents and also some parents, especially the young ones who are not sure if they're doing things right, or if some of them just needing a little bit extra support or mentoring in the community. This is a way they can find out what services are available to them in the community."