Women's History Celebration planned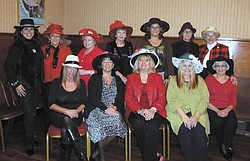 Photo
Plans are under way for the 27th annual Trumbull County Women's History Celebration. Committee members seated from left are Heather Sarko, Renee Maiorca, chairwoman Esther Gartland, E. Carol Maxwell and Roz Jackson. Standing are Stephanie Furano, Theresa Salcone, Judie Hartley, Eddie Wolcott, Beky Davis, Pam Hallett and Martha Ellers. Committee members not shown are Irene Buccino and Julie Vugrinovich.
WARREN
The 27th annual Trumbull County Women's History Celebration will take place March 23 at Packard Music Hall, 1703 Mahoning Ave. NW.
The event will feature a luncheon provided by Saratoga Restaurant and Catering.
Doors will open at 11 a.m. and the event will begin at noon.
The program will spotlight the life of Margaret Mitchell, author and journalist noted for her American Civil War Era novel, "Gone With the Wind."
She will be portrayed by actress Debra Connor, who was a featured performer at the Ohio Chautauqua in Warren during the summer of 2012.
Those attending are encouraged to wear their favorite hats.
Reservations are due by March 1. Tickets are $25 per person.
For tickets contact Carol Maxwell at 330-360-0901 or email her at maxec226@gmail.com, or Esther Gartland at 330-637-4843 or gartlanddj@aol.com.