Parents announce Gulling-Leftwich engagement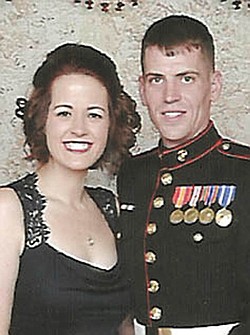 Photo
TRACY L. GULLING AND SAMUEL J. LEFTWICH
LOWELLVILLE
Jeffrey and Barbara Gulling of Lowellville are announcing the engagement of their daughter, Dr. Tracy Lynn Gulling of West Hartford, Conn., to Lance Cpl. Samuel Joseph Leftwich of Camp Lejuene, N.C.
Parents of the future groom are James and Paula Leftwich of Lakeland, Fla.
Vows will be exchanged at a 10 a.m. wedding ceremony May 25 at Tara, A Country Inn, in Clark, Pa., where a reception will follow. Invitations will be extended for both.
The bride-elect received bachelor's degrees in biology and music at Westminster College and a doctor of osteopathic medicine from Lake Erie College of Osteopathic Medicine. She is a primary-care physician at Hartford Healthcare, New Britain, Conn.
The prospective groom received an associate degree in liberal arts from Polk Community College.
He is a member of the U.S. Marine Corps, and is serving as an anti-tank guided missileman at Camp Lejuene.