Austintown woman's shares her favorites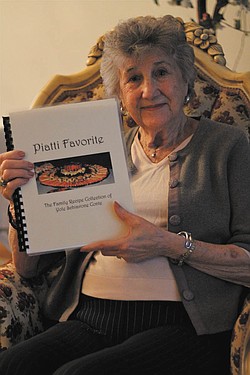 Photo
Yole Conte of Austintown holds the cookbook she put together with old family recipes handed down from generation to generation.
By JoAnn Jones
AUSTINTOWN
YOLE MILENE SCHIAVONE Conte of Austintown loves family, tradition and cooking.
To combine these three loves, she created and published a cookbook that she can pass down to her children and grandchildren.
"The idea for the cookbook came from my daughter," Conte said. "It all started at a Christmas Eve dinner when she said, 'Mom, I don't know any of these recipes.'"
"I decided to write a book because I wanted the Christmas Eve tradition to be passed down to my children and their families," she said.
"So I hand-wrote it all, most of it while I was in Florida," she added, "and my granddaughter Hillary Koontz, who was in high school, used her computer to type it."
"The hard part," the 92-year-old said, "was categorizing and separating the recipes. I took it to Kinko's for printing and binding. Originally, I gave out eight or 10, but then everyone wanted one. If I have one and someone wants one, I give it. I'm not selling them."
"I have cooked everything in there," Conte added. "Those recipes are tried and true."
Conte was born in Italy and came to New York as a 7-year-old with her mom and five siblings in 1927. Her father had come six years earlier to become an American citizen. The family moved to Austintown in 1929, and Conte has been there ever since.
She said she became interested in cooking when she was about 14.
"I used to help my mother," she said, "and she was a really good cook. When you have six children to feed, you need help."
"My parents opened a grocery store that specialized in meat," she said. "We catered to those people of German descent."
"At first I knew no English — only 'yes' and 'no,' and sometimes I used them at the wrong times," she said with a laugh. "I was very shy."
"We were not allowed to speak Italian in the store," Conte said. "My father forbade it. And every night, we had to learn seven new words."
Since the family lived above the store, Conte lived there until she got married.
"We had the store, Schiavone Family Food, for 53 years until we sold it in 1972," she added. "My brother Leonard Schiavone co-owned it with us."
Conte said proudly that all of her siblings were successful, having gone on to college or some type of higher education.
"I graduated from Fitch and went to YSU for pre-law," she said. "I didn't finish, though. I got married instead."
She and her late husband, Emil, to whom she dedicated her cookbook when she first published it in 2005, had two daughters, Sheila Koontz of Austintown and Valerie Cardiero of Boston. Their four grandchildren — Camille Radvanyi, Allison Papalardo, Hillary Koontz and Lindsay Koontz — have blessed her with seven great-grandchildren, she said.
The great-grandchildren head straight to the tin in Conte's kitchen every time they visit. They know the tin always holds treats such as anise pretzels.
From the time Conte's children were little, she cooked everything, not just Italian dishes.
"Mulligan Stew was my favorite thing to make," she said. "I like vegetables, and I actually like cooking more than baking. My husband loved sweets, but I tend to go toward the sour side."
Ironically, the favorite recipe in her book is a sauce — but not an Italian tomato sauce. She uses a 3-pound pot roast, onions, garlic cloves, grated cheese, carrots, celery, cloves and beef bouillon cubes to make a beef sauce that she pours over pasta.
"I cook it gently for four to five hours until the meat falls apart," Conte said. "I don't sweat over my food. I find the easiest way there is. But it has to have TLC."
But recipes weren't all that she wanted to hand down to her family while writing her cookbook. She included a little bit of family history, a favorite Italian poem, household hints and a tribute to her adopted country, America, as she urges her family to always vote.
"I vote," she said emphatically. "I never got an absentee ballot. Once you ask ..."
"Don't get me on politics, though," she said, "or you're in trouble."
"America's my adopted country," she said, "but I love it. It's my country. I've never bought a foreign car. I always buy American."
But as much as she loves America, she can still recall the saddest day of her life, when she left Italy at age 7.
"When we left for America and had to leave my grandmother," she said, "I never saw her again. I didn't go back until 1965." By that time, her grandmother had passed away.
Her vivacity and longevity appear to be hereditary, as her mother was 98 when she passed away, and one of Conte's sisters was 97. Her one brother, a dentist who lives in Florida, will be 99, and her youngest brother — the only one born in America — is 83. She said she also had three cousins who lived to be 100.
Because Conte has been in good health, she has been able to return to Italy and travel to other parts of Europe such as Greece, Spain, and France. But she always makes her way back to Austintown, which has been home for more than 80 years. And she continues to cook, serving up appetizers, eggs, fish and other delicious dishes.
"There are many things that I want to leave to my children and their families," she wrote at the end of her cookbook as she listed sayings that she tries to live by. "I try to live by them, but I may have fallen short."
At the top of her list of sayings: "Love is not love 'til you give it away." And she's given away plenty.
More like this from vindy.com