Austintown racino meeting attracts potential construction bidders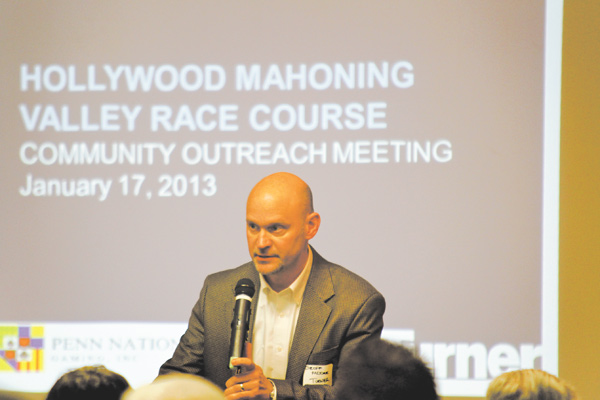 ---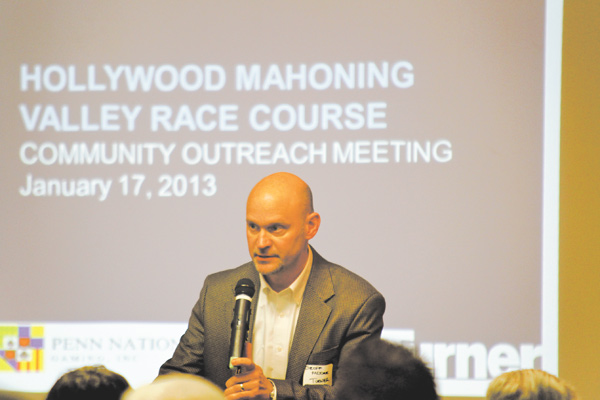 Photo
Geoff Moore speaks to attendees during a Thursday community outreach event conducted in Niles by Hollywood Mahoning Valley Race Course to inform prospective bidders about how to get involved in racino construction.
By Susan Tebben
NILES
A banquet center in Niles became the center of talk Thursday about opportunities at a racino planned in Austintown.
Subcontractors and entrepreneurs filled Ciminero's Banquet Center as representatives from Penn National Gaming Inc. and Turner Construction Co. explained the bidding process for work on the Hollywood Mahoning Valley Race Course, a $250 million project. Artistic renderings of the new facility also were shown, giving the first looks at themes and the potential look of the racino.
"I love the approach that Turner is taking to have this community outreach," said Michael Randazzo, corporate director of purchasing for Penn National. "My responsibility today is to get to know everyone because I'm not here [after the project is finished]."
Bid dates for materials needed for the project were shown to potential subcontractors, including dates when completion of different phases of the project are planned.
Bids already have been requested by Turner for concrete, steel, earth grading, elevators and escalators, and the company expects to hear from companies in the next few weeks, according to Bob Hennessy, senior project manager for Turner.
"We're continuing to refine the scope of the project," Hennessy told the crowd.
Some members of the crowd were looking to join the databases of workers who can bid on projects, and some audience members were just there to see what building the facility would take.
"It's a good shot in the arm for the area, and there will be projects that will shoot off from this," said Bob Gerst, business manager for the Western Reserve Building Trades Council, which represents 21 local unions, including plumbers, masons and other construction trades.
For Austintown resident and businessman Bob Raymond, the outreach event represented a chance for new business as sales manager of Manufacturer's Wholesale Lumber, which has businesses in Middlefield and Cleveland.
"We were looking for new business, and we're very interested in it," Raymond said. "And since I live there, I can't wait to see it."
Hennessy said a grand opening in the second quarter of 2014 is planned, with foundations laid in April 2013, structural steel constructed in May 2013 and track construction completed in June 2013.
According to Randazzo, by the end of the year, operations team members should join the construction team on site in Austintown.
But without a local presence, the project will not be completed, Hennessy said.
"But from what I've seen today, from the interest shown today, I don't think we'll have any problem," Hennessy said.
By March, the Ohio Racing Commission is expected to sign off on Penn's application to relocate its Beulah Park track in suburban Columbus to Austintown. The company will then have to gain approval from the lottery commission to offer video lottery terminals in Austintown. The racing commission also plans additional public hearings to provide further details on the new racino.