Stadium students learn about owls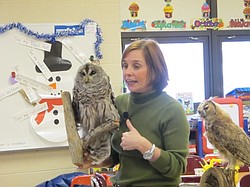 Photo
Neighbors | Natalie Scott.Karen McCallum from Boardman Park told Stadium Drive kindergarten students that there are two Barred Owls, just like the one she is holding, that call the park their home.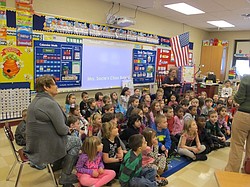 Photo
Neighbors | Natalie Scott.All three kindergarten classes at Stadium Elementary School came together in one room to listen to the owl presentation Jan. 7.
By NATALIE SCOTT
Boardman Park's Karen McCallum made a visit to kindergarten students at Stadium Drive Elementary School Jan. 7 to give a lesson on owls.
McCallum comes to Boardman elementary classrooms three times a the year for each class in the school. Each month has a different theme and each grade chooses what they would like to focus on.
"All of the animals that I discuss can be found in Ohio," said McCallum. "It's fun for children to learn about what's here. Yes, other places have tigers and lions, but we have some really special animals right here and I really want to encourage kids to want to learn about it."
For the owl lesson, McCallum brought real animals that have been stuffed and stuffed animal versions of owls. McCallum used these to illustrate the difference between the two. She talked briefly about each kind of real owl she brought, telling students where they can be found, and also played each owl's call twice.
The owls McCallum focused on were the Screech Owl, Barn Owl, Barred Owl, and the Great Horned Owl. She told fun facts about each type of owl, like that the Barn Owl was recently on the endangered species list, Screech Owls are responsible for the banshee-like sound that is sometimes heard in "haunted" houses, and that the Great Horned Owl is the reason why we think owls say "who?" when they make their calls.
After the lesson, students could come forward and pet the soft feathers on the owls.
"I think it's important, especially for kids this age, to have a hands-on experience when they learn. Feeling a pelt or the feathers on an owl is a lively and entertaining way to bring the lesson to life and teach kids new things," said McCallum.