Poland wrestlers add another milestone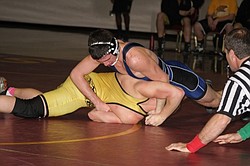 Photo
Poland's Anthony Mancini (top) pins Liberty's Brandon Jefferson in the third period of their match.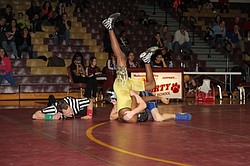 Photo
Darren Gooden pinned Liberty's Robby Kurtz to win their 113-pound bout.
The Poland varsity wrestling team knocked off 2012 All-American Conference dual meet champion Liberty 68-9 to win the program's first-ever East Ohio Wrestling League title and AAC conference championship.
Poland's program in only its third year of existence and has reached some major milestones, including last year's EOWL Tournament Division III title, sending two wrestlers to the district tournament and defeating Valley wrestling powerhouses Boardman and Fitch.
"This was a big win and we really wanted to give a 100 percent for our coaches," said Poland 170-pounder Mike Audi, who pinned Liberty's Tyrell Jethrow in 1:59.
Poland cruised past liberty from the opening match where 106-pounder Dante Ginnetti pinned Jeremy Borton in 1:44. The Bulldogs won the next 12 matches, with nine coming by pin.
"We have a lot of wrestling still to do this year," said Poland coach Tony Stellato, whose team is 14-1.
Poland will travel to Alliance this weekend to compete in the ultra-competitive Top Gun Tournament. In its 27th year, the event features 48 of the top teams in Ohio, Pennsylvania and West Virginia.
"We need to get some wrestlers on the podium this year," said Stellato, in regard to the Top Gun Tournament where some of the weight classes include returning state placers.