Poland vet center hosts fundraiser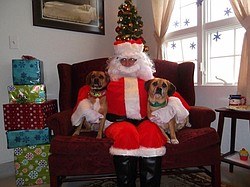 Photo
Puggle and Tonka hang out with Santa during PVC's recent Holiday Open House.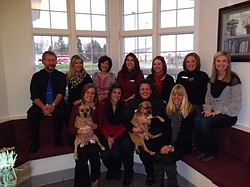 Photo
The staff at Poland Veterinary Centre posed for a photo during the center's Holiday Open House fundraiser on Dec. 15.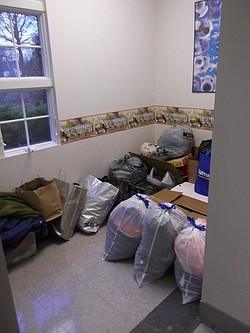 Photo
Visitors donated bags of clothing and household products as part of the fundraiser. Items were donated to the AMVETs of Ohio.
For almost 20 years, Poland Veterinary Centre has been caring for Poland's pets. On Dec. 15, the staff turned that caring spirit toward people.
The animal hospital hosted a fundraiser benefitting AMVETs of Ohio and the Beatitude House through cash donations, as well as gently-used clothing, kitchen utensils, radio alarm clocks, new, unwrapped toys and cleaning items. Those attending the event could drop off these, and similar items, which were then donated by the center.
"I had worked at a practice in West Virginia where they did something similar," said Carly Taft, a staff member at the center. "We wanted to do some sort of donation around the holidays, so we thought we could have some fun, reward clients and help others at the same time."
Those bringing in donations were rewarded with a free picture of their pet with Santa. There were also snacks and refreshments, tours of the hospital, prizes and special paw imprint ornaments.
The hospital raised $200 in cash and collected about 20 bags of clothing, cleaning products, toys and hygiene products. The staff and owners of the center matched the monetary donation and gave a check to the Beatitude House. The other donations were picked up by the AMVETs.
Poland Veterinary Centre is a full-service small animal hospital located on Cligan Road in Poland. The original hospital opened almost 20 years ago in a converted carriage house on North Main Street. On Sept. 29, 2003, the center moved to its current location.
To learn more, visit www.polandvet.com.