In the pink, Fitch defenders roll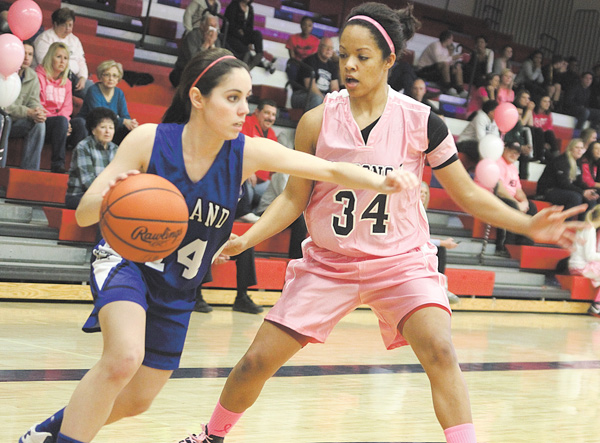 ---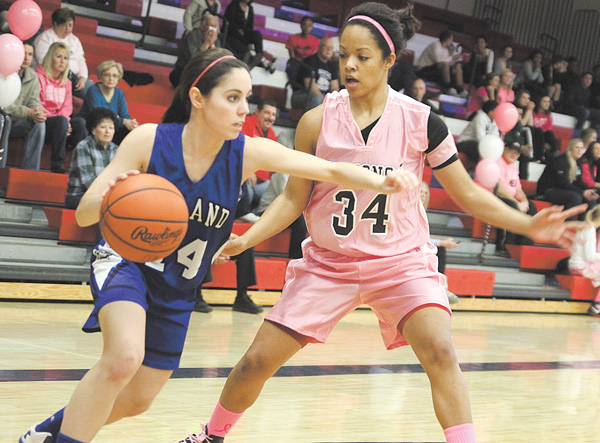 Photo
Poland's Rachael Robertson (14) tries to get past Fitch defender Briana Edwards (34) during the Falcons' fourth annual "Think Pink Game" on Thursday at Fitch High School in Austintown. The Falcons defeated the Bulldogs, 46-25.
By Greg Gulas
Austintown
The fourth annual "Think Pink Game" at Fitch High had a little bit of everything Thursday, most especially an awareness of the many forms of cancer for those that were in attendance.
Visiting Poland coaches wore pink shirts to show their support, the Falcons' student section had nearly everyone dressed in some form of the color, signs adorned the walls of the gymnasium, the Falcons' uniforms were pink and even the referee's sported pink whistles, shoelaces and socks.
Not to be lost in the shuffle, however, was the motivated play by the Falcons in honor of their coach, Stacie Cepin, herself a thyroid cancer survivor who celebrated her four year anniversary of clean health on Dec. 18.
Cassie Custer had a game-high 10 points, Aaliyah Sadler and Megan Sefcik each added nine markers and the stingy Falcons defense forced 27 Bulldogs turnovers as Fitch defeated Poland, 46-25.
"There are some that still doubt us despite our record," Custer said. "We wanted to make a statement tonight and in the process, hopefully gain some respect.
"Our game plan is to create our offense from playing solid defense and tonight we did just that with pressure right from the start."
On Dec. 20, the Falcons held the Bulldogs to just four first quarter points and 10 at the half en-route to a 52-32 road win.
The Fitch defense one-upped that effort Thursday.
Custer and Maura Bianco each hooped four points in the opening period as the Falcons (12-3) raced to a 17-2 advantage, then held Poland (11-5) to one free throw in the second frame as they built a 26-3 advantage.
The Bulldogs never led.
"We're lucky in that we're pretty deep on the bench and are able to shuffle kids in and out in order to stay fresh," Cepin said. "Our M.O. is to keep applying pressure, which in turn creates easy offensive opportunities.
"This has become a game that we look forward to every year and while we want and strive to win, it's more about the cause. We have a word of the day and today's word was sacrifice. We were playing for all of those out there that are fighting any form of cancer. This game was for them."
Two first quarter points and three first-half tallies were the least in a quarter and half by Poland this season.
Their first half woes puzzled Poland coach Nick Blanch.
"Our slow start led to a bad first half," Blanch said. "We were shell-shocked and I thought we were a little intimidated, which surprised me. We knew what was coming and were prepared, but just didn't execute."
The Falcons held a 21-17 rebound advantage with Sefcik hauling in seven.
More like this from vindy.com